Cookies and Bars
Cookies (and bars or squares) are probably the most popular and commonly made dessert of all. They're easy to make, fit so perfectly
in our hands, almost always store at room temperature and come in endless flavors, shapes and textures. While chocolate chip cookies are probably at the top of the popularity list, there are other very popular cookie recipes, such as butter cookies, sugar cookies, oatmeal cookies and peanut butter cookies. Beyond these all-time favorites are so many other wonderful cookie recipes.
Bars are very similar to cookies, but are usually made in a pan, then cut into square or rectangular shapes. Whether you prefer your cookies and bars chewy or crunchy, sweet or tart, frosted or plain, I hope you find these cookie and bar recipes as delicious as I do. I am always on a quest for new great cookie and bar recipes, and will add them to this page as I find them.
Cookie and Bar Recipes ▼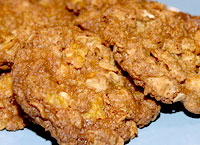 Wheat Germ Crunchies
are crunchy wholesome cookies made with all sorts of wonderful healthy ingredients. Whole wheat flour, oats, wheat germ, shredded coconut and cereal flakes (you can use any type of cereal flakes, such as corn, oat or bran) give these cookies substance and full flavor. A few butterscotch morsels (optional, but delicious!) are added to give these cookies a little boost of sweetness and flavor.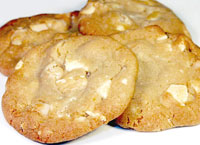 Calling all white chocolate lovers! This
White Chunk Macadamia Cookies recipe
produces a delicious and irrestistable large chewy cookie filled with big chunks of white chocolate and coarsely chopped macadamia nuts. The macadamia nuts help to counter the sweetness of the white chocolate, resulting in a perfect balance of sweet and salty and amazing flavor! The trick to making the perfect chewy cookie is also in the process!
More...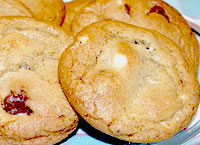 Zebra Chunk Cookies
are for all-around chocolate lovers, because they are filled with both dark and white chocolate chunks (thus, the name "
Zebra" Chunk Cookies
). As for the real chocolate, semi-sweet or milk chocolate can be used. If preferred, coarsely chopped macadamia nuts can also be added for more texture and flavor. These cookies have a chewy inside with a light and crispy exterior.