Cookies and Bars
Cookies (and bars or squares) are probably the most popular and commonly made dessert of all. They're easy to make, fit so perfectly
in our hands, almost always store at room temperature and come in endless flavors, shapes and textures. While chocolate chip cookies are probably at the top of the popularity list, there are other very popular cookie recipes, such as butter cookies, sugar cookies, oatmeal cookies and peanut butter cookies. Beyond these all-time favorites are so many other wonderful cookie recipes.
Bars are very similar to cookies, but are usually made in a pan, then cut into square or rectangular shapes. Whether you prefer your cookies and bars chewy or crunchy, sweet or tart, frosted or plain, I hope you find these cookie and bar recipes as delicious as I do. I am always on a quest for new great cookie and bar recipes, and will add them to this page as I find them.
Cookie and Bar Recipes ▼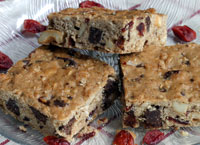 Made with a variety of wholesome ingredients, these delicious
Oatmeal Cashew Bars
lean on the healthy side. These tasty cookie bars are made with whole wheat flour, sweetened dried cranberries, chopped cashews, chopped semi-sweet chocolate and a hint of cinnamon, and are sweetened with honey and brown sugar. They are the perfect healthy snack or dessert for anytime, and are great to tuck into a gift basket of goodies!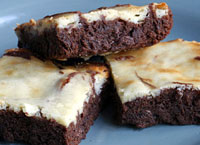 Cheesecake Brownies
(also sometimes called Cream Cheese Brownies) begin with a moist and chewy chocolate brownie filled with semi-sweet chocolate chips. A delicious easy-to-make cheesecake topping is then poured over the top, and the two layers are baked together to create the perfect balance of chocolaty sweetness and the cheesy creaminess of cheesecake. An easy, elegant and irresistable dessert!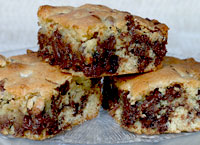 Chocolate Chip Blondies
are basically chocolate chip cookie bars that combine the chewiness of chocolate chip cookies and the fluffiness of cake. The flavor of these cookie bars is much like chocolate chip cookies, and does not scrimp on the chocolate chips! The batter for these cookie bars is divided into two sections, with a layer of chocolate syrup sandwiched in between, giving these bars a double dose of delicious chocolate flavor!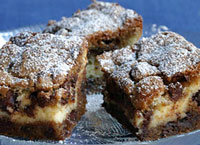 If you're a chocolate chip cookie and cheesecake lover,
these Chocolate Chip Cheesecake Bars
will allow you to enjoy the flavors and textures of both desserts in one bite! This
cookie bar recipe
takes a traditional homemade chewy chocolate chip cookie recipe and combines it with a cream cheese filling similar to cheesecake that whips up in just minutes. Delicious cooled to room temperature or chilled.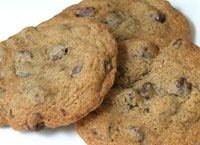 This
Chocolate Chip Cookie recipe
produces the traditional moist and chewy chocolate chip cookie, featuring a generous amount of semi-sweet chocolate chips, making every bite amazing! This recipe also uses some whole wheat flour and a good amount of brown sugar, giving these cookies added chewiness and terrific flavor. The perfect chocolate chip cookie is not just about the ingredients - it's in the method, too!
More...
This
Chocolate Chunk Cookie recipe
produces a cookie that brings to the table some serious competition to the all-time favorite chocolate chip cookie! These
Chocolate Chunk Cookies
feature plenty of large chunks of semi-sweet chocolate in a chewy and delicious cookie dough (if preferred, milk chocolate or white chocolate can be used instead of semi-sweet). Coarsely chopped nuts can also be added, if desired.