Cookies and Bars
Cookies (and bars or squares) are probably the most popular and commonly made dessert of all. They're easy to make, fit so perfectly
in our hands, almost always store at room temperature and come in endless flavors, shapes and textures. While chocolate chip cookies are probably at the top of the popularity list, there are other very popular cookie recipes, such as butter cookies, sugar cookies, oatmeal cookies and peanut butter cookies. Beyond these all-time favorites are so many other wonderful cookie recipes.
Bars are very similar to cookies, but are usually made in a pan, then cut into square or rectangular shapes. Whether you prefer your cookies and bars chewy or crunchy, sweet or tart, frosted or plain, I hope you find these cookie and bar recipes as delicious as I do. I am always on a quest for new great cookie and bar recipes, and will add them to this page as I find them.
Cookie and Bar Recipes ▼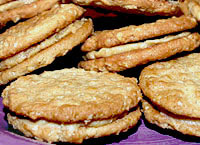 These cookies eaten all by themselves (without the filling) would be delicious; but when you add the creamy, peanut-buttery cookie filling in between two of these baked delights, you're in for a divine cookie experience! The addition of rolled oats in this
peanut butter cookie recipe
adds flavor, texture and substance, as well as an element of healthiness. If you enjoy Girl Scout peanut butter sandwich cookies, look no further!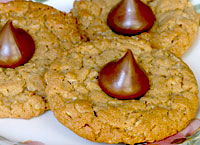 These
Peanut Butter Oatmeal Kisses cookies
are made with a blend of ingredients that produce cookies with a texture that has the perfect balance of soft and chewy yet light and crumbly. These cookies are made with oatmeal, and though different in flavor and texture than traditional
Peanut Butter Kisses
, are famously topped with a chocolate kiss, giving everyone that special surprise half-way through eating the cookie!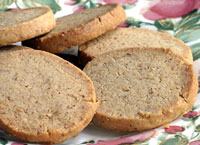 These melt-in-your-mouth
Pecan Butter Cookies
are as delicious and crumbly as they look! These cookies are sweetened with brown sugar rather than the traditional white sugar often used with shortbread cookie recipes, giving them a richer flavor, while the pecans add their own natural sweetness! For added decoration and sweetness, these shortbread cookies can be coated with powdered sugar, similar to
Keflins
.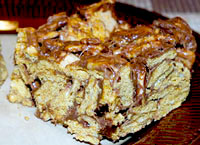 This simple and delicious
S'more Bars recipe
entertains the flavors of S'mores (combining the words, "Some More", likely meaning once you eat one, you will want some more!), treats made with roasted marshmallows and milk chocolate sandwiched in between two graham crackers. This bar recipe will produce a large number of servings in much less time, without everyone having to wait their turn around the campfire!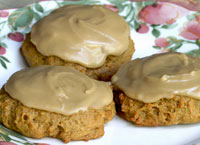 Spiced Pumpkin Cookies
are perfect for the holidays, but they are so good, they should be enjoyed any time of year! These moist, soft and chewy pumpkin cookies are flavored with canned pumpkin, pumpkin spice and orange zest, and have a texture somewhere in between the chewiness of a cookie and the softness of cake. The buttery brown sugar and confectioner's sugar icing makes them burst with flavor!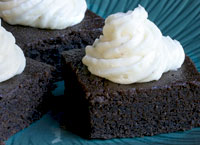 These
Spiked Eggnog Brownies
are a perfect dessert to serve around the holidays, when eggnog becomes available in the stores and is being celebrated as a Thanksgiving and Christmas drink. This moist and chewy brownies recipe includes some bourbon in the brownies (the alcohol evaporates during baking), and a little bourbon in the icing, though fruit juice and/or vanilla extract can be used instead, if desired.