Cookies and Bars
Cookies (and bars or squares) are probably the most popular and commonly made dessert of all. They're easy to make, fit so perfectly
in our hands, almost always store at room temperature and come in endless flavors, shapes and textures. While chocolate chip cookies are probably at the top of the popularity list, there are other very popular cookie recipes, such as butter cookies, sugar cookies, oatmeal cookies and peanut butter cookies. Beyond these all-time favorites are so many other wonderful cookie recipes.
Bars are very similar to cookies, but are usually made in a pan, then cut into square or rectangular shapes. Whether you prefer your cookies and bars chewy or crunchy, sweet or tart, frosted or plain, I hope you find these cookie and bar recipes as delicious as I do. I am always on a quest for new great cookie and bar recipes, and will add them to this page as I find them.
Cookie and Bar Recipes ▼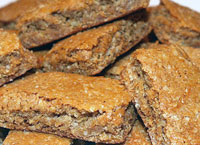 If you like the taste of honey graham crackers, you will enjoy these soft and chewy bars. Leaning on the healthier side,
Honey Graham Bars
are made with three types of flour and light doses honey and sugar, then sprinkled with coarse raw sugar on the top for a little added sweetness and crunch. They are crumbly and chewy and mildly sweet, with a very wholesome taste. Great with ice cream or yogurt and coffee or tea!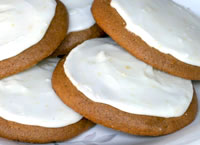 These
Iced Chewy Spice Cookies
get their distinct and festive flavor from ground ginger, ground cloves, nutmeg and allspice, applesauce and a healthy dose of molasses. The texture of these unique cookies falls somewhere between a chewy cookie and cake, giving them a tender chewiness while allowing them to plump up evenly while baking. The icing for these cookies is made with confectioner's sugar, lemon juice and lemon zest.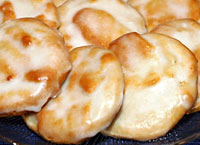 These soft and chewy
lemon cookies
have refreshing flavor, and are coated with a light and tangy lemon icing made with a simple mixture of confectioner's (powdered) sugar and freshly squeezed lemon juice that firms up when it cools much like doughnut icing. These cookies are very quick and easy to make, and have a wonderful balance of sweet and tartness that will be enjoyed by all ages.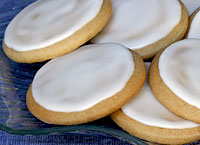 Iced Lebkuchen Cookies
are soft and chewy and full of those wonderful spices we celebrate around the Christmas holiday, such as cinnamon, nutmeg and cardamom - though these German style cookies are of course fabulous any time of year! Sweetened with brown sugar and honey and topped with a sweet vanilla icing that has a nice light crunch after it sets, these cookies will not last long!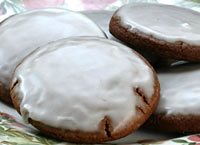 Most of us associate the flavors and aromas of molasses, ginger and cinnamon with the Fall and Winter seasons, when Halloween, Thanksgiving and Christmas holidays call for festive baked desserts. We don't need a holiday to enjoy these distinctive
Iced Molasses Ginger Cookies
! What makes these cookies especially unique is the addition of sour cream to the cookie dough, which gives them a moist and chewy texture.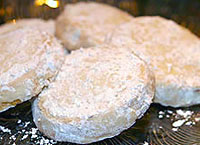 Caution! These cookies can be very addicting! Keflens are melt-in-your-mouth shortbread cookies that have a buttery and crumbly texture and a rich and wonderful flavor created by finely crushed walnuts and a mild hint of almond extract. The walnuts are entirely optional, though add a real boost of flavor and texture.
Keflens
were passed down by my Grandma Bonnie, who used to bring a tin filled with these cookies to every holiday.