Cookies and Bars
Cookies (and bars or squares) are probably the most popular and commonly made dessert of all. They're easy to make, fit so perfectly
in our hands, almost always store at room temperature and come in endless flavors, shapes and textures. While chocolate chip cookies are probably at the top of the popularity list, there are other very popular cookie recipes, such as butter cookies, sugar cookies, oatmeal cookies and peanut butter cookies. Beyond these all-time favorites are so many other wonderful cookie recipes.
Bars are very similar to cookies, but are usually made in a pan, then cut into square or rectangular shapes. Whether you prefer your cookies and bars chewy or crunchy, sweet or tart, frosted or plain, I hope you find these cookie and bar recipes as delicious as I do. I am always on a quest for new great cookie and bar recipes, and will add them to this page as I find them.
Cookie and Bar Recipes ▼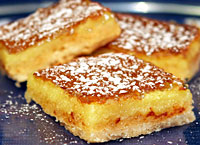 Lemon Bars
(sometimes called Lemon Squares or Lemon Slices) are light and refreshing dessert bars that consist of two delicious layers with different textures and flavors. The bottom layer is made with very basic ingredients often found in shortbread cookies, while the top layer is made with a mixture of freshly squeezed lemon juice, lemon zest, sugar and eggs, giving it a sweet and tangy, moist and chewy lemon topping.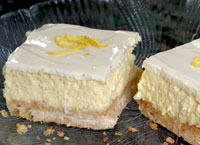 Does the idea of making cheesecake sound a little too involved and time-consuming to you? Well, these
Lemon Cheesecake Bars
will ease your mind, because they are one of the easiest cheesecake recipes you'll ever encounter! These quick and easy and incredibly irresistable lemon cheesecake bars are mixed in a blender and baked in a flaky crust, then topped with a mildly sweetened sour cream topping.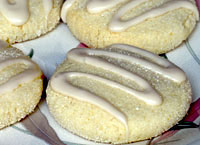 These
Lemon Cream Cheese Cookies
are chewy little cookies with a texture and flavor similar to
sugar cookies
. What makes these cookies differ from traditional sugar cookies is the addition of cream cheese to the batter. These cookies can be made into little cookies, or into larger cookies. Just like sugar cookies, balls of cookie dough are rolled in granulated sugar, giving them that delightful crunchy, sparkling coating.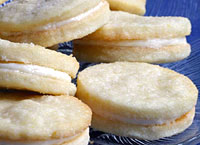 This
Lemon Shortbread Sandwich Cookies recipe
produces tender, crumbly and chewy cookies with fresh lemon flavor, which on their own would be delightful - but sandwich these lemon cookies around a buttery lemon cookie filling, and these cookies become absolutely irresistible! Each cookie is also coated with a little granulated sugar before baking, giving them added crunch and sweetness on the outside.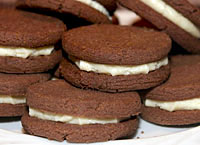 Malted Chocolate Sandwich Cookies
take chocolate sandwich cookies to a whole new level by adding the flavor of malt into the cookie filling. Have you ever had a chocolate or vanilla ice cream malt? If so, then you have a glimpse of the distinctly wonderful flavor these cookies deliver! This
sandwich cookie recipe
produces crumbly and delicious cookies with a buttery and creamy filling with that distinct burst of yummy malt flavoring!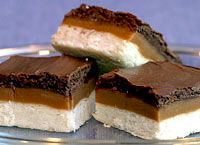 This
Millionaire's Shortbread Bars recipe
will satisfy your sweet tooth, your chocolate cravings and your appreciation for a flaky shortbread cookie - all in one bite! These cookie bars consist of three layers with different textures that blend beautifully together: The bottom layer is made of light and crumbly shortbread, the middle layer is made of chewy caramel (homemade) and the top layer is made of semi-sweet chocolate.