Lemon Shortbread Sandwich Cookies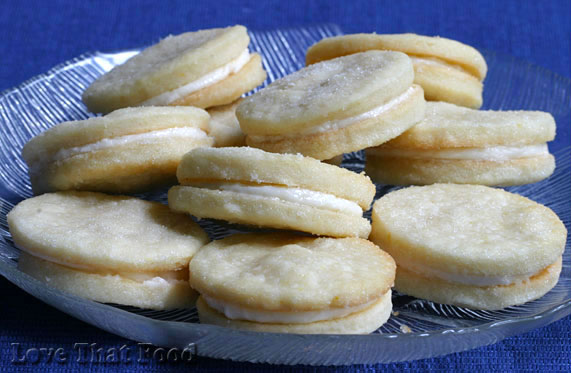 Yield:
4 to 4 1/2 dozen cookies
Tips:
Flour work area as frequently as needed when rolling out dough to prevent sticking.
This Lemon Shortbread Sandwich Cookies recipe produces tender, crumbly and chewy cookies
with fresh lemon flavor, which on their own would be delightful - but sandwich these lemon cookies around a buttery lemon cookie filling, and these cookies become absolutely irresistible! Each cookie is also coated with a little granulated sugar before baking, giving them added crunch and sweetness on the outside. These cookies might best be described as having a texture that combines the chewiness of a sugar cookie and the crumbly flakiness of a shortbread cookie. Lemon sandwich cookies are made with real freshly squeezed lemon juice and lemon zest, which gives them authentic and refreshing lemon flavor. These cookies are also very easy to make, and bake in just 6-8 minutes. If you're looking for a cookie recipe for a party, special event or the holidays, these cookies will be a huge hit!
Ingredients
Cookies

2 cups all-purpose flour
1 cup (2 1/2 sticks) butter, softened & divided
1/3 cup whipping cream
1/2 cup granulated sugar, divided
1 teaspoon lemon zest
1/8 teaspoon lemon extract



Filling

1 1/2 cups powdered (confectioner's) sugar
1/2 cup butter
2 (and up to about 1/4 additional teaspoon as needed) freshly squeezed lemon juice
2 teaspoons vanilla extract
Directions
Cookies
In an electric mixer bowl, combine flour, butter, whipping cream, 1/4 cup of the granulated sugar, lemon zest and lemon extract. Mix at medium speed until well blended (about 2-3 minutes), stopping once during mixing to scrape dough from sides and bottom of bowl. Divide dough into three portions. Flatten each portion into 1/2-inch-thick round disks and wrap in plastic wrap. Refrigerate disks until firm (1 hour or more).
Preheat oven to 375° F. Place remaining 1/4 cup granulated sugar in a shallow bowl and set aside.
Remove cookie dough disks from refrigerator and roll out to 1/8-inch thick with a rolling pin on a well-floured work surface, re-flouring work surface, dough and rolling pin as necessary to prevent dough from sticking. Using a 1 1/2-inch round cookie cutter, cut out one cookie at a time. Lift cookie and hold over bowl of granulated sugar. Sprinkle a little sugar on one side of the cookie, then gently flip the cookie over to your other hand and sprinkle the other side. Place cookies on an ungreased baking sheet 1 inch apart. For any dough scraps left over after each rolling, squeeze scraps into a ball and re-roll into 1/8-inch-thick round disks (again, flouring work area and dough as necessary), then cut additional cookies. Continue this process until all dough has been used.
Bake cookies for 6-8 minutes, or until cookies are slightly puffed but not browned. Allow cookies to cool on baking sheets for 1 minute, then carefully transfer cookies to a wire rack to completely cool.
Filling
Combine powdered sugar, butter, lemon juice and vanilla in medium mixing bowl. Beat mixture with a fork, electric mixer or electric handheld mixer 1 to 2 minutes or until smooth and blended. (Note: Filling should have a fairly firm yet spreadable consistency, much like the filling you will find in pre-packaged sandwich cookies. (Tip: If filling seems a little too firm, add a few extra drops of lemon juice until you reach desired consistency. If dough seems too runny, mix in small amounts of powdered sugar until you reach desired consistency.)
One at a time, place 1 teaspoon of filling on the center of each cookie, then spread around evenly with a knife to about 1/8 inch from cookie edges. Place another cookie on top, and squeeze together very lightly until the filling squeezes out just to the edges so it is visible but not protruding beyond the cookie's edges. (Note: Cookies are very crumbly, so handle gently.) Store in an air-tight container at room temperature.
Other recipes you might like: