Cookies and Bars
Cookies (and bars or squares) are probably the most popular and commonly made dessert of all. They're easy to make, fit so perfectly
in our hands, almost always store at room temperature and come in endless flavors, shapes and textures. While chocolate chip cookies are probably at the top of the popularity list, there are other very popular cookie recipes, such as butter cookies, sugar cookies, oatmeal cookies and peanut butter cookies. Beyond these all-time favorites are so many other wonderful cookie recipes.
Bars are very similar to cookies, but are usually made in a pan, then cut into square or rectangular shapes. Whether you prefer your cookies and bars chewy or crunchy, sweet or tart, frosted or plain, I hope you find these cookie and bar recipes as delicious as I do. I am always on a quest for new great cookie and bar recipes, and will add them to this page as I find them.
Cookie and Bar Recipes ▼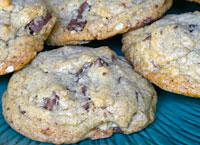 Chocolate Chunk Oatmeal Cookies
take the irresistible goodness of traditional chocolate chunk cookies, and add some oatmeal for texture, flavor and a boost of healthiness. These delicious cookies can be made with semi-sweet or milk chocolate chunks, and will fill your mouth with chocolate with every bite! If you're a white chocolate fan, you can certainly make these cookies with white chocolate chunks as well.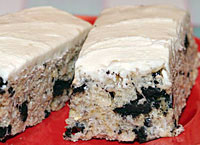 If you enjoy Rice Krispy Treats and Oreos,
Chocolate Cookie Crispies
will have you dancing the happy dance! This bar / cookie / candy (could likely fit all these categories) recipe features puffed rice cereal, mixes it with marshmallows and broken bits of chocolate sandwich cookies (such as Oreos), and tops it off with an icing that is much like the filling you find in sandwich cookies. The frosting is optional, though fabulous!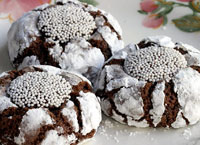 Chocolate Crinkle Cookies
(also sometimes called Stained Glass Cookies, Snow Top Cookies, Snow Cap Cookies or Slice and Bake Cookies) are chewy chocolate cookies rolled in confectioner's sugar before baking. While they bake, the cookies expand, leaving open cracks that expose the chewy chocolate interiors, while the powdered sugar creates a dramatic contrast to the dark cookie. topped with nonperil candies.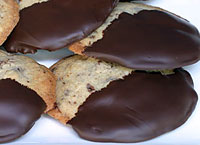 Chocolate-Dipped Chocolate Chunk Cookies
take chocolate chip cookies to a whole new level, giving these cookies a double dose of chocolate! The cookie batter can be baked to a chewy texture or baked until golden and crispy, and can be made with semi-sweet or milk chocolate. White chocolate fans can easily turn this cookie recipe into a heavenly experience with double-dose of white chocolate as well!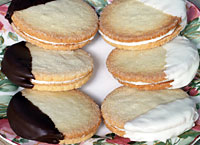 These
sandwich cookies
are a heavenly indulgence in more ways than one! The sandwich cookies are thin, buttery and flaky shortbread cookies that melt in your mouth. The cookies are topped with granulated sugar before baking, giving them a crispy outer coating. Once cooled, the cookies are filled with a lemon-flavored creamy filling, then dipped in your choice of chocolate or white chocolate (or both!). They're almost too delicious!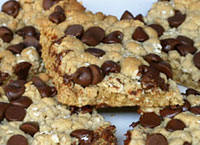 Chocolate Oatmeal Bars
lean on the healthier side and are made with oats, egg whites and brown sugar, and can be made with all-purpose or whole wheat flour (whole wheat flour tends to make them a little chewier as well as healthier). Semi-sweet chocolate morsels (regular or mini-size) add the perfect final sweet touch. Your favorite chopped nuts and/or mini marshmallows can also be added for additional flavor and flair.