Cookies and Bars
Cookies (and bars or squares) are probably the most popular and commonly made dessert of all. They're easy to make, fit so perfectly
in our hands, almost always store at room temperature and come in endless flavors, shapes and textures. While chocolate chip cookies are probably at the top of the popularity list, there are other very popular cookie recipes, such as butter cookies, sugar cookies, oatmeal cookies and peanut butter cookies. Beyond these all-time favorites are so many other wonderful cookie recipes.
Bars are very similar to cookies, but are usually made in a pan, then cut into square or rectangular shapes. Whether you prefer your cookies and bars chewy or crunchy, sweet or tart, frosted or plain, I hope you find these cookie and bar recipes as delicious as I do. I am always on a quest for new great cookie and bar recipes, and will add them to this page as I find them.
Cookie and Bar Recipes ▼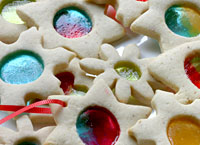 Stained Glass Cookies
(also referred to as Stained Glass Window Cookies) are made with colored crushed hard candy, creating a vibrant and colorful stained window effect in the cookie centers. These cookies are perfect as Christmas cookies and can even be used as Christmas tree ornaments! They're also perfect as Valentine's Day cookies filled with red candy or any occasion, depending on the cookie cutters used.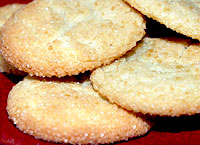 This easy
Sugar Cookies recipe
produces a delicious soft and chewy sugar cookie with a light outer crunch made with either traditional granulated or raw sugar. These Sugar cookies are very versatile, in that rather than being rolled in sugar before baking, they can be baked plain, then decorated with one or more colorful icings and/or candy toppings to accommodate any holiday, birthday, or any celebratory occasion.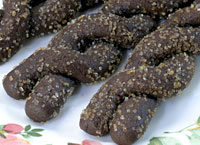 Sugared Chocolate Pretzels
are a fun alternative to traditional cookie recipes because of their attractive twisted shape and crunchy sugar coating. These chocolate pretzels have a full chocolate flavor provided by powdered cocoa, and are sweetened with sugar and a little honey. These sweet pretzels can also easily be upgraded to a gourmet recipe, simply by dipping one or both ends in milk, dark or white chocolate!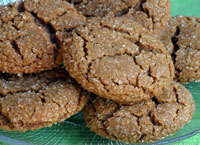 If you're a fan of chewy cookies, and you enjoy cookies flavored with molasses, ginger, brown sugar and/or cloves, these
Sugared Ginger Molasses Cookies
will definitely hit the spot for you! These molasses cookies are rich in flavor and crackle when they bake, exposing the brown chewy interior. Before baking, small balls of cookie dough are rolled in granulated sugar, giving them an outer sugary and simply irresistible crunch!
Sweetheart Cookies
are a great way to let someone know how special they are to you! These soft and chewy heart-shaped
Sweetheart Cookies
are the perfect cookie to bake for Valentine's Day, but can also be made any time of year, simply by using any variety of of year, simply by using any variety of cookie cutter shapes. These cookies are sweetened with honey and brown sugar, and flavored with hints of lemon and cinnamon.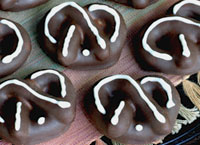 These
Triple Chocolate Pretzel Cookies
may look a lot like chocolate covered pretzels, but once you bite into one, you'll quickly see these are chewy chocolate cookies, not pretzels! While chocolate covered pretzels are actually pretzels that have been coated with chocolate, these chocolate pretzel cookies feature a chocolate cookie dough that's topped with a chocolate glaze, then decorated with a white chocolate design.