Sugared Ginger Molasses Cookies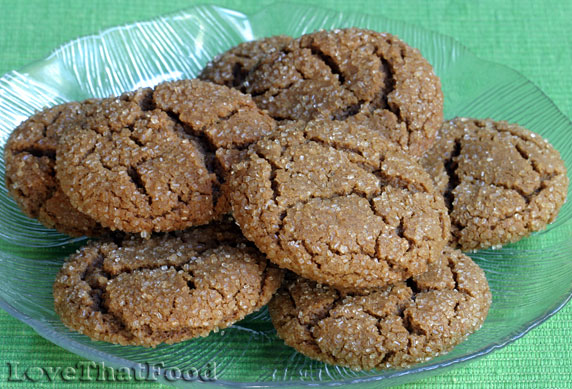 Tips:
Rolling cookie dough balls in coarse or raw sugar creates a nicer outer crunch than regular granulated sugar, though both types of sugar can be used.
Suggestion:
These cookies are great any time of year, but are especially perfect served during the Thanksgiving and Christmas holidays.
If you're a fan of chewy cookies, and you enjoy cookies flavored with molasses, ginger, brown sugar and/or cloves, these Sugared Ginger Molasses Cookies will definitely hit the spot for you! These chewy molasses cookies are rich in flavor and crackle when they bake, exposing the brown chewy interior. Before baking, small balls of the cookie dough are rolled in granulated sugar, giving them an outer sugary crunch once baked that makes them simply irresistible! (Tip: To get the best outer crunch effect, using coarse or raw sugar is recommended, though regular granulated sugar can be used as well.)
When it comes to holidays like Thanksgiving and Christmas, festive desserts made with flavors like molasses,
brown sugar, ginger, nutmeg, cloves and cinnamon become a popular theme. A few dessert recipes as well as a quick bread recipe flavored with these holiday spices that come to mind are
Gingerbread Cake
,
Gingerbread Butterscotch Cookies
,
Ginger Cut-Out Cookies
,
Iced Chewy Spice Cookies
,
Iced Lebkuchen Cookies
,
Spiced Pumpkin Cookies
,
Pumpkin Pie
and
Zucchini Bread
.
This cookie recipe makes a very large batch of cookies, which comes in handy for holiday parties or other social events. If you're making these cookies for a smaller crowd and would like to divide this recipe in half, the only small challenge you might face is dividing the egg in half. To do this, simply beat the egg, divide it into equal portions in two very small bowls, then discard 1/2 of the egg from one bowl and reserve the other 1/2 egg for the cookie batter.
This ginger molasses cookie recipe will also make great holiday gifts, perhaps packaging them together with other Christmas cookies, such as
Keflens
,
Ginger Cut-Out Cookies
, and perhaps some
Frosted Fudgy Chocolate Chip Brownies
. Though these chewy ginger molasses cookies are great for the holidays, they are just as declicious and irresistible any time of year!
Ingredients
1 cup butter (2 sticks), softened
1 cup packed dark brown sugar
1/2 cup granulated sugar, plus more for (preferably coarse) for coating
1 large egg
1/2 cup dark molasses
1 teaspoon baking soda
1/2 teaspoon salt
1 tablespoon ground ginger
1/2 teaspoon ground cloves
3 1/4 cups all-purpose flour
1/4 cup whole wheat flour (all-purpose flour may be used instead, if desired)
Directions
Preheat oven to 350° F.
In an
electric mixer
bowl, cream butter, brown sugar and 1/2 cup granulated sugar until well blended. Add egg and molasses to the mixer bowl and beat again until well-blended.
In a separate
mixing bowl
, whisk together flours, salt, ground ginger and ground cloves until blended. Add the flour mixture to the butter and sugar mixture and mix until well blended, stopping once to scrape sides and bottom of mixing bowl to incorporate all ingredients
Place some sugar (about 1/4-inch-deep) in a small bowl near baking sheets. Shape the cookie dough into 1-inch balls and roll each in sugar to evenly coat. Place sugar-coated cookie dough balls on lightly greased
baking sheets
, placed about 2 inches apart. Bake for 11-14 minutes or until cookie edges appear done yet cookie centers appear chewy (Tip: Shorter baking time will produce chewier cookies). After removing from oven, allow cookies to sit on baking sheets for about 1 minute, then transfer with a spatula to a wire cooling rack. Store in an air-tight container.
Other recipes you might like: