Cookies and Bars
Cookies (and bars or squares) are probably the most popular and commonly made dessert of all. They're easy to make, fit so perfectly
in our hands, almost always store at room temperature and come in endless flavors, shapes and textures. While chocolate chip cookies are probably at the top of the popularity list, there are other very popular cookie recipes, such as butter cookies, sugar cookies, oatmeal cookies and peanut butter cookies. Beyond these all-time favorites are so many other wonderful cookie recipes.
Bars are very similar to cookies, but are usually made in a pan, then cut into square or rectangular shapes. Whether you prefer your cookies and bars chewy or crunchy, sweet or tart, frosted or plain, I hope you find these cookie and bar recipes as delicious as I do. I am always on a quest for new great cookie and bar recipes, and will add them to this page as I find them.
Cookie and Bar Recipes ▼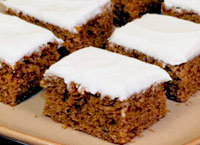 Molasses Cake Bars
are moist and delicious little squares of cake made with the distinct flavor of molasses as well as some cinnamon and cloves; festive spices often often used during the holidays. If you enjoy gingerbread, spice cake, pumpkin pie or other desserts that utilize the wonderful flavors of molasses, ginger, cinnamon, maple syrup, nutmeg and/or allspice, then this cake bar recipe is a must try!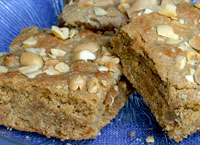 Whether you like to call them brownies or cookie bars, they all seem to share that wonderful moist and chewy quality that we just can't resist! These
Nutty Peanut Butter Brownies
are moist and chewy and are sweetened only with brown sugar (which helps to give them that chewy quality). Chopped peanuts are sprinkled over the top before baking, giving them a tasty crunch with every bite!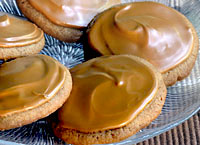 These
Orange Cappuccino Cookies
are a delightful and welcomed change from what you would normally expect from a cookie! The subtle flavors of orange and coffee combine beautifully, giving these cookies a sweet citrus flavor with just the perfect hint of coffee. The icing on these cookies is also flavored with coffee, and after mixed together with confectioner's sugar, has the perfect blend of sweetness and that cappuccino flair.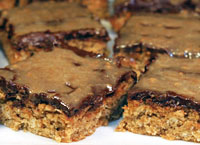 Peanut Butter Chocolate Squares
is a delicious bar cookie recipe that entertains the well-loved flavors of peanut butter and chocolate along with rolled oats, giving these dessert bars a wonderful chewy texture. These chocolate and peanut butter bars start with a delicious baked sheet of cookie dough, then are topped with melted chocolate chips and drizzled with a thin peanut butter glaze.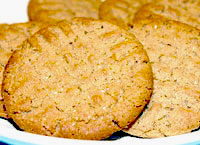 This
Peanut Butter Cookie recipe
produces a chewy, cookie made with whole wheat flour and brown sugar. The cookies are rolled in granulated sugar and a traditional criss-cross pattern is created on top with the tines of a fork., The wheat flour and brown sugar give these cookies more substance and chewiness, as well as a richer flavor than peanut butter cookies made with white flour and white granulated sugar.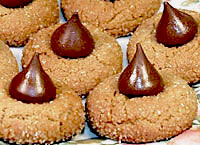 Peanut Butter Kisses
are also sometimes referred to as Blossom Cookies, Peanut Blossom Cookies, Peanut Butter Blossom Cookies, Kiss Cookies or Hershey Kiss Cookies. Peanut Butter Kisses feature the famous flavor combination of peanut butter and chocolate. The cookies are nice and chewy, and are rolled in granulated sugar, providing a nice outer crunch. Once baked, each cookie is topped with a milk chocolate (or any other flavor) kiss.