Cookies and Bars
Cookies (and bars or squares) are probably the most popular and commonly made dessert of all. They're easy to make, fit so perfectly
in our hands, almost always store at room temperature and come in endless flavors, shapes and textures. While chocolate chip cookies are probably at the top of the popularity list, there are other very popular cookie recipes, such as butter cookies, sugar cookies, oatmeal cookies and peanut butter cookies. Beyond these all-time favorites are so many other wonderful cookie recipes.
Bars are very similar to cookies, but are usually made in a pan, then cut into square or rectangular shapes. Whether you prefer your cookies and bars chewy or crunchy, sweet or tart, frosted or plain, I hope you find these cookie and bar recipes as delicious as I do. I am always on a quest for new great cookie and bar recipes, and will add them to this page as I find them.
Cookie and Bar Recipes ▼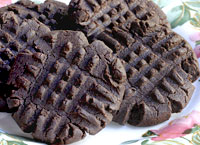 Calling all lovers of peanut butter and chocolate! Just like traditional peanut butter cookies, this
Chocolate Peanut Butter Cookie recipe
produces chewy cookies with that rich peanut butter flavor, with the added bonus of chocolate provided by cocoa powder. These cookies have a rich, dark color that is a true representation of the chocolaty flavor they possess! The cookie dough can also be rolled out and cut into shapes if desired.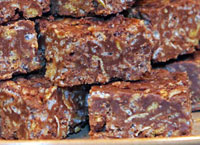 Chocolate Peanut Butter Crispies
are sweet and crispy little squares of chocolately and peanut buttery goodness. This bar recipe incorporates the light and chewy crunch that comes with Rice Krispie Treats and the delicious chocolate and peanut butter flavors of peanut butter cups, resulting in an irresistible treat that screams, "More!" This quick and easy candy (or bar) recipe requires no baking - simply heat, mix and chill!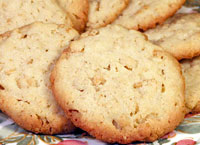 Crispy Rice Cookies
have a flavor similar to sugar cookies, yet have a light and crispy texture provided by puffed rice cereal and a wholesomeness provided by oatmeal flakes. This cookie recipe is very easy to make and uses common ingredients you likely already have in your pantry. These buttery rice cookies have a mild and sweet flavor that pleases all ages, and are great with a cup of coffee, tea or milk.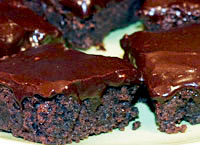 This decadently moist, rich and delicious
brownie recipe
will make it virtually impossible for you to ever go back to those prepackaged boxes of brownie mix. Once you realize how easy these fudgy brownies are to make from scratch, how moist they are and how they burst with flavor, the boxed brownie mixes will pale in comparison! These brownies feature chocolate chips in every bite, as well as an optional frosting that is over the top!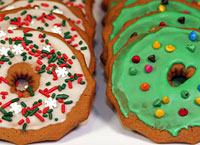 Ginger Cut-Out Cookies
are soft and chewy, and are filled with that delicious festive flavor often found in many desserts around the holidays, such as Thanksgiving and Christmas (though no holiday is required to enjoy this fabulous ginger cookie recipe!) A blend of ginger, molasses, cinnamon and cloves gives this cut out cookie recipe a distinctive and memorable flavor that is enjoyed by all ages.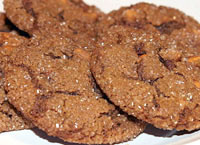 This easy
Gingerbread Butterscotch Cookie recipe
combines chewy and soft and gingerbread cookies and marries them with the melt-in-you r-mouth flavor of butterscotch, resulting in a chewy and full-flavored cookie that is like no other! Made with molasses, ginger, brown sugar, cloves and cinnamon and butterscotch morsels makes these cookies festive and full of amazing flavor!