Breakfast
I've often wondered how some people can skip breakfast - but then again, I always wake up hungry. What could be better than starting your day with something delicious to give your day a great kick start? After all, the word "breakfast" is actually the joining of the two words, "break" and "fast," which describe the first meal of the day
that 'breaks the fast' since your last meal the day before. For those of you who enjoy breakfast like I do, you'll find a variety of breakfast dishes on these pages that will help to make your mornings feel new and not so routine, including healthy breakfasts, egg recipes,
breakfast muffins
,
breakfast casseroles
, quick breads,
doughnuts
,
granola
and more. While some of these breakfast recipes might be best suited for the weekends (such as cinnamon rolls, because of the time needed to for the dough to rise), most breakfast food can be prepared quickly or even the day before, making it easy to put together or simply warm up the following morning. Many breakfast recipes can be prepared and stored, and eaten day after day, such as
Banana Bread
,
Chocolate Chip Cream Cheese Cupcakes
,
Cinnamon Rolls with Cream Cheese Icing
(once they've been baked) and even
quiche
. These breakfast recipes are also perfect for brunches. So, consider celebrating your mornings by experimenting with some new breakfast ideas, and happy browsing!
Breakfast Recipes ▼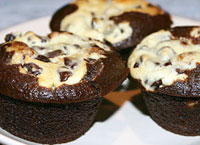 These
Chocolate Chip Cream Cheese Cupcakes
can also easily fall into the muffin category because they are not as sweet as traditional cupcakes, and don't use any icing. This makes them perfect served for dessert, breakfast, brunch and snacking. These
cream cheese cupcakes
are moist and delicious, and have a wonderful cream cheese and chocolate chip filling that reminds one of chocolate chip cheesecake.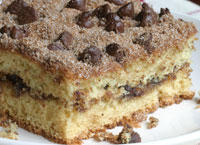 This
Chocolate Chip Sour Cream Coffee Cake recipe
is a spongy cake, featuring a couple layers of a unique mixture of chocolate chips, cinnamon, brown sugar and granulated sugar and is quite moist, thanks to a generous helping of sour cream. As with most coffee cake recipes, this coffee cake tastes great warm, fresh from the oven, at room temperature, or can be easily reheated in the microwave later.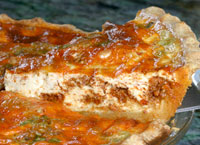 One could say this
Chorizo Quiche in Cornmeal Crust recipe
has a bit of a Mexican theme, because it's made with chorizo sausage and is baked in a cornmeal crust, though it could take on other themes as well, depending on the type of chorizo used. This easy quiche recipe is great served as a breakfast quiche, though can also be served with brunch, or for lunch or dinner served with a green
salad
. Great hot or chilled!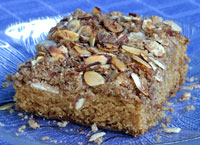 This
cinnamon coffee cake
is made with buttermilk, giving the cake a moist texture, while a cinnamon crumb topping combined with some sliced almonds is sprinkled over the top before baking, giving it a nice crumbly and nutty crunch. (Note: If you are not fond of nuts in your coffee cake, you can make this topping without the almonds, and the coffee cake will still have a delightful crumbly topping!)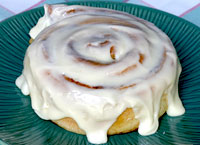 I sincerely doubt there is a more delicious cinnamon roll out there. These
cinnamon rolls
are made with generous amounts of cinnamon, brown sugar and butter that are rolled up inside a soft dough, sliced into individual rolls, then baked to a light golden brown. The rolls are then topped with an incredible buttery cream cheese icing that melts down the sides and melts in your mouth! Delicious hot from the oven or at room temperature.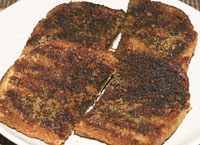 For those mornings when you need a quick breakfast or simply crave something a little sweet,
Cinnamon Toast
fits the bill! Photo above shows Cinnamon Toast made with whole grain wheat bread, but you can use any type of bread you like. It's a good idea to make the Cinnamon Sugar recipe in a larger amount and store it with your spices for future use, because it stores indefinitely, and will come in handy!