Granola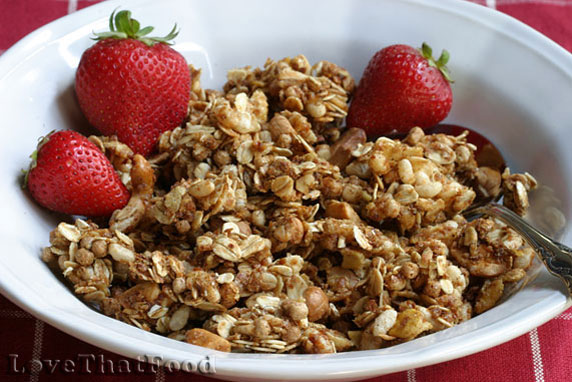 Cook Time:
1 hour, 15 minutes
Tips:
Granola becomes crispy after it cools.
Suggestion:
Delicious served as a cereal with milk (delicious with fresh or freeze-dried berries or bananas), as a garnish over yogurt or ice cream or as a snack anytime.
This healthy homemade Granola recipe is not only very easy to make, it will provide you with a good amount of granola for a much less cost than the prepackaged granola you will find in grocery stores. Making your own granola will also will enable you to customize it to your own personal liking. For instance, if you like nuts in your granola, you can use cashews, walnuts, pecans, sunflower seeds (or any other nuts or seeds you prefer), or combine them all. While most granola recipes use old fashioned rolled oats as the main ingredient, a variety of other wholesome ingredients can be added or as well; such as wheat germ, oat or wheat bran, flax seeds, puffed
brown rice, oat or wheat cereal flakes (included in this recipe). The best place to shop for your granola ingredients is at whole food grocery stores, where you can find bulk bins of oats, nuts and grains. This way, you can choose exactly how much of each ingredient you purchase and will likely have a larger selection of ingredients. Regular grocery stores are likely to carry the ingredients you need as well, but you may have to purchase them in packages, cartons or boxes, which will not give you as much control over how much you buy. This granola recipe has a nice light crunch that is provided by the puffed brown rice, crispy flax cereal (small round puffs made with flax seeds) and broken corn flakes. If you prefer a more dense texture to your granola, you can certainly substitute flax seeds, and/or more nuts or grains you enjoy. Coconut oil comes in a solid form and can be found in jars in whole food stores near all the other oils. You can use any other oil, though coconut oil is recommended for its healthy qualities and ability to hold the granola ingredients together. As with all granolas, you can serve this granola as a cereal with milk, topped with your favorite fresh or freeze-dried berries or fruit, or as a topping for yogurt or ice cream, or as an anytime snack.
Ingredients
Granola

3 cups old-fashioned rolled oats (not instant)
1/2 cup wheat germ
1/4 cup oat bran
1/2 cup crispy brown rice cereal
1/2 cup slightly crumbled corn, bran or oat flakes
1/2 cup crispy flax cereal (or 1/4 cup flax seeds)
1 cup unsalted cashew pieces (or pecans, walnuts, or other nut you prefer)
1/4 cup plus 2 tablespoons brown sugar
1 teaspoon cinnamon



Flavoring

1/2 cup pure maple syrup (Grade A Dark Amber is best)
1/2 cup honey
3 tablespoons coconut oil (other oil may be used, but coconut is recommended)
1/2 teaspoon salt
1 tablespoon vanilla
Directions
Preheat oven to 250° F.

Place all granola ingredients in a large mixing bowl. Stir to combine and set aside.

In a small saucepan, combine all Flavoring ingredients and heat on low-medium until coconut oil has melted and all ingredients have blended (about 1 minute). (Note: If you are using a liquefied oil such as olive oil or canola oil, you can skip this heating step, and simply mix the ingredients in a mixing bowl before adding to granola ingredients.) Remove from stove and stir in vanilla extract.

Pour Flavoring mixture over Granola mixture and stir to combine. Pour entire mixture onto a large baking sheet sprayed with nonstick spray and evenly spread out. Cook for 1 hour 15 minutes, removing pan and stirring every 15 minutes to achieve an even color.

Remove pan from oven and set on a cooling rack. Using a spatula, spoon or rubber spatula, push any outer loose scattered pieces of granola in to touch the main bulk of the granola (this will allow granola to cool into chunks that you can break into desired sizes). Cool completely (granola becomes crispy after it cools). Gently break large pieces of granola into desired chunk sizes, then transfer to an airtight container.
Other recipes you might like: