Breakfast
I've often wondered how some people can skip breakfast - but then again, I always wake up hungry. What could be better than starting your day with something delicious to give your day a great kick start? After all, the word "breakfast" is actually the joining of the two words, "break" and "fast," which describe the first meal of the day
that 'breaks the fast' since your last meal the day before. For those of you who enjoy breakfast like I do, you'll find a variety of breakfast dishes on these pages that will help to make your mornings feel new and not so routine, including healthy breakfasts, egg recipes,
breakfast muffins
,
breakfast casseroles
, quick breads,
doughnuts
,
granola
and more. While some of these breakfast recipes might be best suited for the weekends (such as cinnamon rolls, because of the time needed to for the dough to rise), most breakfast food can be prepared quickly or even the day before, making it easy to put together or simply warm up the following morning. Many breakfast recipes can be prepared and stored, and eaten day after day, such as
Banana Bread
,
Chocolate Chip Cream Cheese Cupcakes
,
Cinnamon Rolls with Cream Cheese Icing
(once they've been baked) and even
quiche
. These breakfast recipes are also perfect for brunches. So, consider celebrating your mornings by experimenting with some new breakfast ideas, and happy browsing!
Breakfast Recipes ▼
This recipe for
Orange Cinnamon Crumb Cake
features an mildly sweet light, soft and fluffy pan cake flavored with orange zest and orange juice, giving this cake a nice hint of fresh citrus flavor as well as enhanced vibrant color. The cinnamon crumb topping for this cake is as easy as ever to make, and has a nice slightly crisp and crumbly texture after baking. This cake can be made with prepared or fresh squeezed orange juice.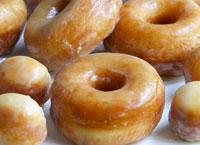 These yeast-raised golden delights are nothing short of an irresistible melt-in-your-mouth experience! This
Raised Doughnuts recipe
(also sometimes called "glazed doughnuts") turns a simple refrigerator dough into golden rings with a light and crispy exterior and and light and puffy interior. While still warm, they are dipped in a vanilla glaze that makes them glisten just like the doughnuts you see in doughnut stores.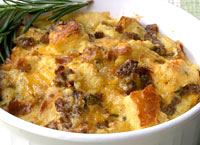 Sausage Strata with Rosemary
is an easy gourmet style casserole dish that is delicious served for breakfast, brunch, lunch or dinner. This sausage strata recipe can be baked in one casserole dish or in smaller individual serving size ramekins. Made with eggs, shredded cheddar cheese, crumbled breakfast sausage, cubes of roasted garlic bread and fresh chopped rosemary, this casserole dish has texture and flavor suited for all ages!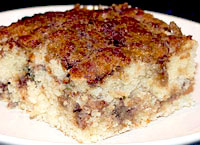 Sour Cream Coffee Cake
is another fabulous recipe passed down by my grandmother, Bonnie, with a few slight changes to improve on what was already a winner recipe. This sour cream coffee cake recipe features a moist and fluffy cake with a delicious moist and buttery cinnamon and sugar swirl filling throughout that melts in your mouth. Enjoy this coffee cake fresh out of the oven, at room temperature, or reheated in the microwave.
This moist
Banana Bread recipe
produces the best banana bread I have ever tried, perhaps because of its healthy and hearty quality and simply wonderful flavor. What also might make this
banana bread
stand apart from the rest is the fact that it is made with whole wheat flour and a generous helping of sour cream, giving it wholesome goodness and a moist texture you can sink your teeth into!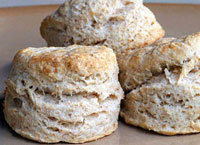 These
Whole Wheat Biscuits
are fluffy and delicious, puff up beautifully, and easily pull apart just like
Flaky Buttermilk Biscuits
. For those who enjoy the flavor and texture of breads made with whole wheat flour, you can probably imagine how tasty these wholesome biscuits are! This easy whole wheat biscuit recipe uses a combination of whole wheat and all-purpose flour and plain yogurt. Delicious fresh out of the oven!