Raised Doughnuts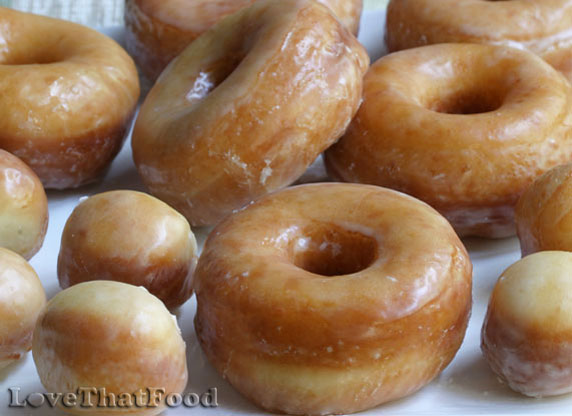 Yield:
19-20 doughnuts and doughnut holes
Cook Time:
40-45 seconds per side, or about 15 minutes total (for all doughnuts).
Tips:
See recipe description for a variety of coating suggestions.
Suggestion:
Always great for breakfast, brunches, desserts or snacking!
Though there might be varied opinions as to whether these delicious puffy and
sweet breakfast treats are spelled "doughnuts" or "donuts," it's safe to say everybody agrees that these yeast-raised golden delights are nothing short of an irresistible melt-in-your-mouth experience! This raised doughnuts recipe (also sometimes called "glazed doughnuts") turns a simple refrigerator dough into golden rings that have a light and crispy exterior and and light and puffy interior. While still a little warm, the doughnuts are dipped in a vanilla glaze that glistens just like the raised doughnuts you see in doughnut stores. Alternatively, you can dip these raised doughnuts in granulated sugar, a cinnamon-sugar combination, chocolate glaze, crumb or any other type of coating you prefer. These doughnuts taste especially fabulous while still warm!
Ingredients
Doughnuts

1 1/2 teaspoons (or 1/2 package) active dry yeast
3/4 cups warm water (105 to 115° F)
1/2 cup lukewarm mashed potatoes (prepared mashed potato buds can be used)
1/3 cup sugar
1/3 cup butter
1 egg
3/4 teaspoon salt
3 to 4 cups all-purpose flour



Vanilla Glaze

(Note: If you like to glaze liberally, making a double dose of glaze is recommended)
1 3/4 cups powdered sugar
1/4 cup water or milk
1/4 teaspoon vanilla
Directions
Doughnuts
Dissolve yeast and warm water in an electric mixer bowl for 3-5 minutes. Add mashed potatoes, sugar, butter, eggs, salt and 1/2 cups of the flour to the yeast and water mixture. Attach bread hook attachment and beat on low speed until blended, then increase speed to medium and beat until smooth. Add remaining flour and continue beating until smooth. If dough still sticks to sides of bowl, add a little more flour (1 tablespoon at a time) just until dough no longer sticks to sides of bowl and is not to sticky to handle.
Grease a large glass bowl with a small amount of oil and set aside. Turn dough onto lightly floured surface and knead for about 2-3 minutes, sprinkling small amounts of flour on dough as needed to prevent sticking to fingers and work surface. Form dough into a ball, then place dough ball in greased bowl, turning dough to coat entire surface with oil. Cover bowl tightly with plastic wrap and refrigerate at least 8 hours, but no longer than 5 days.
Transfer dough to a well-floured work surface and press down to flatten. Roll out to 3/8-inch thick. Using a doughnut cutter, cut out doughnuts, dipping doughnut cutter into flour before each cut. Gently press out doughnut holes from the bottom to avoid making dents on tops of doughnuts or doughnut holes. Form a ball with any remaining scraps then re-roll to 3/8-inch-thick and cut doughnuts until all dough is used up. Place cut doughnuts on a floured surface (such as a baking sheet or cutting board). Cover with a light-weight cotton towel and allow to rise until double in size (1-2 hours).
Heat 2-3 inches of oil in a deep-fat fryer or heavy saucepan to 375° F. Slide doughnuts into hot oil with a wide flat (not slotted) metal spatula, wiping oil off of spatula with a paper towel before lifting each doughnut (to prevent doughnuts from sticking to spatula). Cook doughnuts (and doughnut holes) for 40-45 seconds on each side, watching closely to cook them only long enough to reach a light golden brown color. Carefully lift doughnuts from oil with tongs or by slipping a fork or thin knife (such as a steak knife) into the doughnut hole, then place doughnuts on a stack of paper towels to drain.
Place a cooling rack over a couple sheets of wax paper. Once doughnuts have drained but are still a little warm, dip in vanilla glaze, turning to coat both sides and inside of hole. Place on cooling rack and allow glaze to become set. Best stored in a doughnut-style box, paper grocery bags or other containers that will keep them covered but still allow a little air to reach them (air-tight containers are not recommended, because they might make the glaze on the doughnuts become moist and gooey).
Vanilla Glaze
Whisk together powdered sugar, water (or milk) and vanilla until it reaches a smooth consistency.
Other recipes you might like: