Breakfast
I've often wondered how some people can skip breakfast - but then again, I always wake up hungry. What could be better than starting your day with something delicious to give your day a great kick start? After all, the word "breakfast" is actually the joining of the two words, "break" and "fast," which describe the first meal of the day
that 'breaks the fast' since your last meal the day before. For those of you who enjoy breakfast like I do, you'll find a variety of breakfast dishes on these pages that will help to make your mornings feel new and not so routine, including healthy breakfasts, egg recipes,
breakfast muffins
,
breakfast casseroles
, quick breads,
doughnuts
,
granola
and more. While some of these breakfast recipes might be best suited for the weekends (such as cinnamon rolls, because of the time needed to for the dough to rise), most breakfast food can be prepared quickly or even the day before, making it easy to put together or simply warm up the following morning. Many breakfast recipes can be prepared and stored, and eaten day after day, such as
Banana Bread
,
Chocolate Chip Cream Cheese Cupcakes
,
Cinnamon Rolls with Cream Cheese Icing
(once they've been baked) and even
quiche
. These breakfast recipes are also perfect for brunches. So, consider celebrating your mornings by experimenting with some new breakfast ideas, and happy browsing!
Breakfast Recipes ▼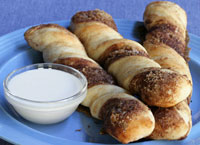 If you like cinnamon rolls, then you'll enjoy this
Cinnamon Twists recipe
! These sweet breadsticks are made with the same kind of soft and fluffy dough, and the same delicious buttery cinnamon, brown sugar and white sugar filling. A recipe for a buttery vanilla icing is included that can be served on the side for dipping (as shown in photo) or drizzled over the top. Alternatively, you can simply coat the twists with sugar for a nice outer crunch!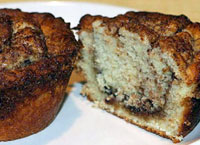 This scrumptious and easy
Coffee Cake Muffins
recipe uses sour cream, giving the cake moisture and wonderful flavor. The tops have a nice light and crispy coating, while the moist and crumbly interior cake is filled with buttery swirls of cinnamon and brown and white sugars that melt in your mouth! These muffins follow
Grandma's Coffee Cake recipe
, yet allow you to make individual servings that are perfect for all occasions.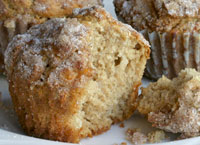 Cottage Cheese Muffins
are soft, moist and fluffy, and have a delicious cinnamon sugar topping that slightly crisps while baking. These breakfast muffins are made with a generous helping of cottage cheese and are sweetened with brown sugar, which adds to their spongy texture. For a healthier muffin, lowfat or nonfat cottage cheese may be used, and whole wheat flour can be subsituted for the all-purpose flour. Also great for kids!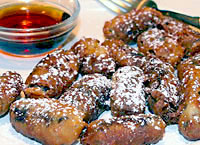 If you like link sausage and pancakes, and if you enjoy that crispy on the outside and moist and tender on the inside quality that fried foods deliver, then you'll enjoy this crispy version of Pigs in a Blanket!
Crispy Sausage Pancake Bites
features cooked link sausages dipped in pancake batter, then fried until golden brown and crispy. Shown here dusted with a light snow of powdered sugar for flavor and eye appeal.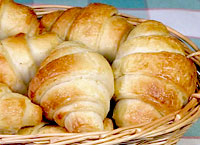 These crescent-shaped
Croissants
are light, flaky and buttery, and are wonderful fresh from the oven, toasted or served at room temperature. These French pastries (also known as crescents or crescent rolls) can be made in any size and can be served in a variety of ways. Small croissants make wonderful appetizers, medium-sized croissants are great as a side dish for any meal, while large sizes can be used for sandwiches.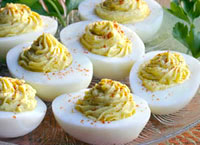 Deviled Eggs
are an all-time favorite appetizer or snack that can be served any time of day, all year-round. It's also one of the easiest and most economical appetizers you will ever make. The only ingredients needed are eggs, mayonnaise, mustard, a little salt and pepper and some paprika or cayenne pepper to add a little sprinkle of color and flavor. These delicious protein-filled cold appetizers are soft, creamy and delicious!