Breakfast
I've often wondered how some people can skip breakfast - but then again, I always wake up hungry. What could be better than starting your day with something delicious to give your day a great kick start? After all, the word "breakfast" is actually the joining of the two words, "break" and "fast," which describe the first meal of the day
that 'breaks the fast' since your last meal the day before. For those of you who enjoy breakfast like I do, you'll find a variety of breakfast dishes on these pages that will help to make your mornings feel new and not so routine, including healthy breakfasts, egg recipes,
breakfast muffins
,
breakfast casseroles
, quick breads,
doughnuts
,
granola
and more. While some of these breakfast recipes might be best suited for the weekends (such as cinnamon rolls, because of the time needed to for the dough to rise), most breakfast food can be prepared quickly or even the day before, making it easy to put together or simply warm up the following morning. Many breakfast recipes can be prepared and stored, and eaten day after day, such as
Banana Bread
,
Chocolate Chip Cream Cheese Cupcakes
,
Cinnamon Rolls with Cream Cheese Icing
(once they've been baked) and even
quiche
. These breakfast recipes are also perfect for brunches. So, consider celebrating your mornings by experimenting with some new breakfast ideas, and happy browsing!
Breakfast Recipes ▼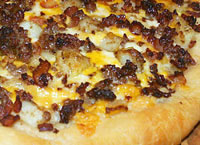 Breakfast Pizza
is a fun and delicious way to serve breakfast! It's also great for brunches or events that take place before lunchtime.
Breakfast Pizza
features eggs lightly scrambled with mild green chilies, crumbled breakfast sausage, bits of bacon, potatoes sautéed with onion and garlic, combined with two kinds of cheeses. All these ingredients rest on top of a homemade Basic Pizza Dough recipe.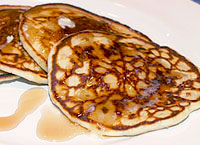 Buttermilk Pancakes
are an all-time favorite because they are soft and fluffy with the added flavor and creaminess of buttermilk. They are a fabulous quick and easy breakfast, and are often served. as a dessert! These pancakes only take a few minutes to prepare, and cook just as quickly. You can also easily make blueberry, banana or strawberry pancakes with this recipe, simply by sprinkling a few pieces of fruit into the batter.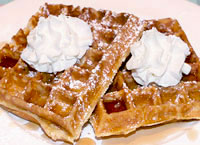 Buttermilk Waffles
are wonderful, because the buttermilk adds a unique flavor of its own that balances the sweetness that comes from the syrup, powdered sugar, whipped topping, or whatever topping you use. Buttermilk also gives these waffles a nice moist texture, while still light and crispy outside. Any type of waffle iron for this recipe, whether it be square, round, heart-shaped or Belgian style, as shown in the above photo.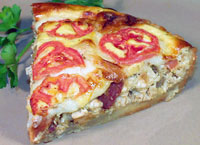 This
Chicken and Bacon Quiche
recipe combines the celebrated flavors of chicken, bacon and Swiss cheese, and mixes them with a seasoned egg mixture that has a wonderful creaminess provided by the addition of sour cream and milk. Chicken and Bacon Quiche is a festive dish that can be served for breakfast, brunch, lunch or dinner, and is even great as a quick cold snack right from the fridge!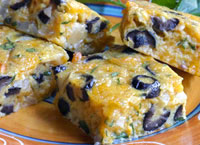 Chile Cheese and Olive Squares
can be served as finger food appetizers, as a colorful side dish with breakfast or brunch, or as an anytime snack. They are tasty served warm or cold, and are easier than ever to make! Chile Cheese and Olive Squares are made with eggs, cheddar cheese, ripe olives, sautéed onion and garlic, diced green chiles, Tabasco or other hot pepper sauce, bread crumbs and parsley.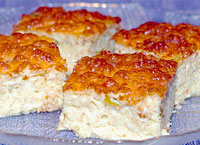 Chile Cheese Bites
are great served as an appetizer, a side dish for breakfast or brunch, or a quick breakfast on the run. They taste great hot from the oven or cold right out of the frige! These little egg and cheese appetizers have a similar texture to quiche (without the pastry crust). Like many egg dishes, Chile Cheese Bites can also be served with a side of red or green salsa, sour cream and/or guacamole.