Breakfast
I've often wondered how some people can skip breakfast - but then again, I always wake up hungry. What could be better than starting your day with something delicious to give your day a great kick start? After all, the word "breakfast" is actually the joining of the two words, "break" and "fast," which describe the first meal of the day
that 'breaks the fast' since your last meal the day before. For those of you who enjoy breakfast like I do, you'll find a variety of breakfast dishes on these pages that will help to make your mornings feel new and not so routine, including healthy breakfasts, egg recipes,
breakfast muffins
,
breakfast casseroles
, quick breads,
doughnuts
,
granola
and more. While some of these breakfast recipes might be best suited for the weekends (such as cinnamon rolls, because of the time needed to for the dough to rise), most breakfast food can be prepared quickly or even the day before, making it easy to put together or simply warm up the following morning. Many breakfast recipes can be prepared and stored, and eaten day after day, such as
Banana Bread
,
Chocolate Chip Cream Cheese Cupcakes
,
Cinnamon Rolls with Cream Cheese Icing
(once they've been baked) and even
quiche
. These breakfast recipes are also perfect for brunches. So, consider celebrating your mornings by experimenting with some new breakfast ideas, and happy browsing!
Breakfast Recipes ▼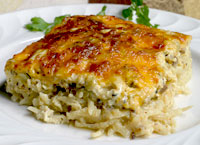 Egg Potato Sausage Breakfast Casserole
is a great breakfast or brunch dish for those mornings you would like to have a delicious, hot meal without all the work. This breakfast casserole is prepared the night before and stored it in the refrigerator overnight. The following morning, all you have to do is pop it into the oven about 40 minutes before serving time. This overnight breakfast casserole is perfect for Christmas and other holidays!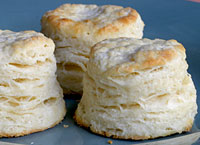 Flaky Buttermilk Biscuits
are easy to make and bake very quickly. They are light and very flaky, and taste spectacular hot from the oven! These flaky biscuits are delicious topped with butter and/or jams, jellies, preserves or any other toppings. They easily heat up in the microwave in seconds. These biscuits are also fabulous with sausage gravy. See
Biscuits and Sausage Gravy
.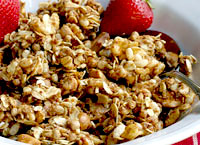 This healthy
homemade Granola recipe
is not only very easy to make, it will provide you with a good amount of granola for a much less cost than the prepackaged granola in grocery stores. This granola recipe features old fashioned rolled oats, wheat germ, oat bran, cashew pieces, puffed rice cereal and broken corn flakes, maple syrup, honey, brown sugar, cinnamon and vanilla extract. Delicious with milk, over yogurt or just snacking!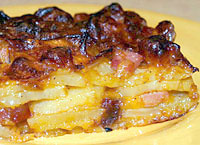 Ham and Scalloped Potatoes
is an easy casserole recipe that feeds plenty, has fabulous flavor, and is enjoyed by all ages. This scalloped potato recipe features thin slices of potato, bite-size chunks of ham, sliced onions and cheddar cheese. All of these delicious ingredients bake together with a simple milk and flour sauce for about 1 hour, resulting in a wonderful bubbly golden casserole with a beautiful caramelized and crunchy top.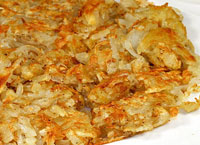 Hash Browns
are very easy to make, are a great hot addition to any breakfast, and will provide a good amount of hunger-quenching comfort food for your dollar. There's a trick to making hash browns that are crispy on the outside and light and perfectly cooked on the inside, which this recipe reveals. Hash Browns can be made with Russet potatoes as shown in the above photo, or use any other type of potato you prefer.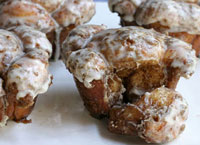 Monkey Bread Muffins
are
pull-apart buns
with a soft and tender dough and a buttery brown sugar and cinnamon baked-in filling that melts in your mouth. Fresh out of the oven, the tops are brushed with a delicious mouth-watering glaze that makes these buns officially irresistible! These buns have separate sections much like
monkey bread
(or pull-apart bread) that allow you to pop one delicious morsel in your mouth at a time!