Breakfast
I've often wondered how some people can skip breakfast - but then again, I always wake up hungry. What could be better than starting your day with something delicious to give your day a great kick start? After all, the word "breakfast" is actually the joining of the two words, "break" and "fast," which describe the first meal of the day
that 'breaks the fast' since your last meal the day before. For those of you who enjoy breakfast like I do, you'll find a variety of breakfast dishes on these pages that will help to make your mornings feel new and not so routine, including healthy breakfasts, egg recipes,
breakfast muffins
,
breakfast casseroles
, quick breads,
doughnuts
,
granola
and more. While some of these breakfast recipes might be best suited for the weekends (such as cinnamon rolls, because of the time needed to for the dough to rise), most breakfast food can be prepared quickly or even the day before, making it easy to put together or simply warm up the following morning. Many breakfast recipes can be prepared and stored, and eaten day after day, such as
Banana Bread
,
Chocolate Chip Cream Cheese Cupcakes
,
Cinnamon Rolls with Cream Cheese Icing
(once they've been baked) and even
quiche
. These breakfast recipes are also perfect for brunches. So, consider celebrating your mornings by experimenting with some new breakfast ideas, and happy browsing!
Breakfast Recipes ▼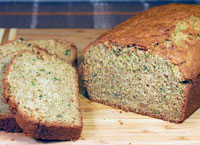 Zucchini Bread
will pleasantly surprise you! The unique flavors in this delicious quick bread recipe remind one of the holidays because of the festive spices used. Though there is a healthy amount of zucchini in this zucchini bread recipe, zucchini is not at all the dominant flavor you will taste. Orange, lemon, cinnamon and ginger combined with the little green specs of zucchini give this quick bread delicious and delightful flavor!