Cottage Cheese Muffins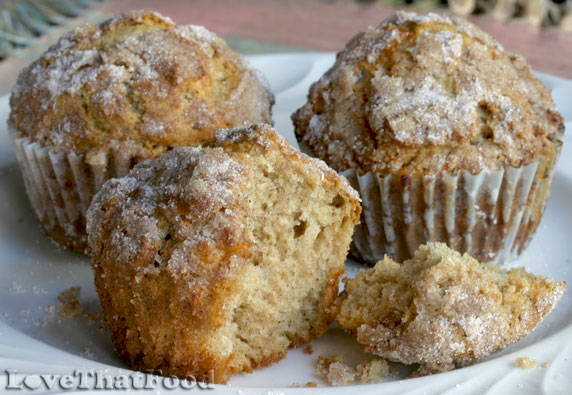 Tips:
Raisins are optional. Regular, lowfat or nonfat cottage cheese may be used.
Suggestion:
Serve for breakfast, as a light dessert or snack.
If you're looking for some easy healthy breakfast ideas, these Cottage Cheese Muffins will not disappoint! These healthy breakfast muffins have delicious and fun flavor that also makes them great as breakfast muffins for kids. Cottage Cheese Muffins are soft, moist and fluffy, and have a delicious cinnamon sugar topping that slightly crisps while baking. These breakfast muffins are sweetened with brown sugar and have a flavor similar to
coffee cake
or
coffee cake muffins
, though are not quite as sweet. While some muffin recipes get their moisture content from buttermilk, cream cheese or
sour cream, this easy muffin recipe gets its moist and spongy texture from a generous helping of cottage cheese. Depending on your own personal preference, you can use regular, lowfat or nonfat cottage cheese, all of which will produce a wonderful result, only with different fat content. If you enjoy healthy muffin recipes, you likely are already aware of the healthy beneits and added flavor derived from using whole wheat flour. This muffin recipe calls for 100% all-purpose flour, because all-purpose flour tends to produce a lighter cake, which helps to counter the heaviness of the cottage cheese. However, some might prefer a more hearty muffin, in which case substituting some whole wheat flour would be beneficial. If you'd like to make these muffins with some whole wheat flour, you can substitute any amount of whole wheat flour for the all-purpose flour, keeping in mind that the more whole wheat flour you use, the heavier and heartier muffin you will produce. So, if you prefer a lighter and more fluffy muffin with a modest amount of whole wheat flour, you might want to try substituting about 1/4 cup of whole wheat flour for the all-purpose flour. These muffins are great served warm with butter!
Ingredients
1/4 cup granulated sugar
1 3/4 teaspoons ground cinnamon, divided
1 cup cottage cheese (regular, lowfat or nonfat)
1/2 cup firmly packed brown sugar
1/3 cup butter, softened
2 eggs
1 1/2 cups all-purpose flour
1 teaspoon baking soda
1/2 cup raisins (optional)
Directions
Preheat oven to 375° F.
In a small
mixing bowl
, whisk together granulated sugar and 1/2 teaspoon of the cinnamon. Set aside.
In an
electric mixer
bowl, combine cottage cheese, brown sugar and butter and beat until fully blended. Lightly beat eggs, then add to ingredients in electric mixer bowl and beat again until fully blended and creamy.
In a medium
mixing bowl
, whisk together flour, remaining 1 1/4 teaspoons of cinnamon and baking soda. Gradually add flour mixture to electric mixer bowl and beat on low speed just until mositened. If using raisins, remove bowl from electric mixer and manually stir in raisins.
Spoon batter into equal portions into 12 muffin pan cups either sprayed with nonstick cooking spray or lined with paper muffin cups. Evenly sprinkle each with 1 teaspoon of the Cinnamon Sugar Topping.
Bake for 20-25 minutes, or until lightly browned on top. Serve muffins warm topped with butter.
Other recipes you might like: