White Cheddar Mashed Potatoes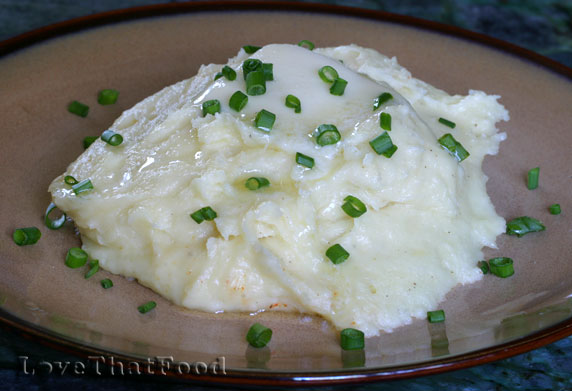 Tips:
If made in advance, may be reheated in oven at 350°F for 30-40 minutes or in microwave (times vary in microwave, depending on how much mashed potatoes are being reheated). When heating in conventional oven, cover potatoes with aluminum foil. To brown top of potatoes, remove aluminum foil one-half way through heating time.)
Suggestion:
Delicious served as a side dish with any meat, fish or chicken main dish.
When it comes to comfort food, mashed potatoes are likely one of the first foods that come to mind. Mashed potatoes can easily accompany nearly any meat, fish or poultry dish, and are so easy to whip up (pun intended). One of the great things about mashed potatoes is that you can make them with additional ingredients to add flavor and texture. These White Cheddar Mashed Potatoes
add fabulous flavor to mashed potatoes with very little effort! With the help of your electric mixer and a whisk attachment, once the potatoes are cooked, you can have these tasty mashed potatoes on the table in minutes. Simply whip the potatoes in the electric mixer, then add the additional ingredients and whip again until fully blended. For more flair, you can top these potatoes with a pat of butter, some diced chives and a little sprinkle salt and pepper, if desired.
You can also make these White Cheddar Mashed Potatoes in advance, then reheat them in the conventional oven or microwave when you're ready to serve them. When reheating single serving leftovers, the microwave method is the quickest and easiest. The great thing about these cheesy mashed potatoes is that they look like traditional mashed potatoes, though you get a mouthful of surprise when you take your first bite and taste that subtle yet fabulous combination of flavors!
Ingredients
3 pounds medium-sized russet potatoes, peeled and quartered
3/4 lb. white cheddar cheese, grated
1/2 teaspoon baking powder
1 teaspoon kosher salt
black pepper
pinch cayenne pepper
pinch grated nutmeg
6 tablespoons butter, melted
3/4 cup heavy cream, heated to warm
2 eggs, lightly beaten
Directions
Fill enough water in a large pot to cover about 1 inch above quartered potatoes. Salt water and bring to a boil, then add potatoes and cook until tender (about 15 minutes). Drain potatoes in a colander, then carefully pour into an electric mixer bowl. Install a wire whisk attachment, then beat potatoes at medium speed for 2 to 3 minutes, stopping once to scrape sides and bottom of bowl using a rubber spatula.

To electric mixer bowl add grated cheese and sprinkle in baking powder, salt, pepper, cayenne and nutmeg. Beat again for about 1 minute, then add butter and cream and mix again at a slow speed. Once ingredients are mixed in, Increase speed to medium and slowly add beaten eggs. Stop mixer once to scrape sides and bottom of mixer bowl with rubber spatula to incorporate all ingredients. Beat again at medium-high speed until mixture becomes smooth (about 2 to 3 minutes).

Serve immediately. (Alternatively, transfer mashed potatoes to a 2-quart baking dish, cover with aluminum foil and let stand at room temperature. Reheat for 30 to 40 minutes at 350°F or until thoroughly heated. Stir potatoes just before serving. (Tip: If you want the top of the potatoes browned, remove aluminum foil halfway through baking time and do not stir before serving.)
Other recipes you might like: