Dauphinoise Potatoes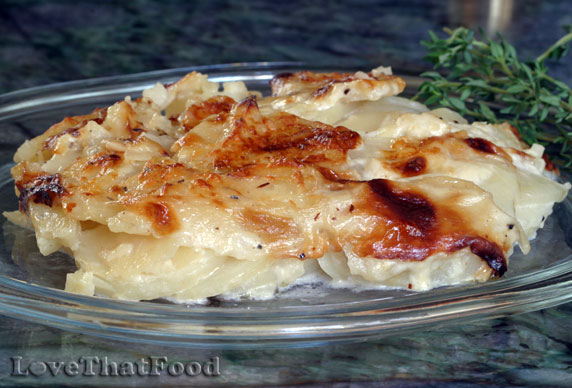 Yield:
About 8 cups, or 8-12 servings
Tips:
Golden potatoes produce a moist and tender result, though other potatoes may be used, such as Russet potatoes. Gruyere or white cheddar cheese may be used. If preferred, an additional 1/2 cup of grated cheese may be used.
Suggestion:
Delicious served as a side dish to most any main course. Also makes a wonderful potato side for the Thanksgiving and Christmas holidays.
If you're looking for easy potato side dishes that will nicely accompany a variety of main courses, this Dauphinoise Potatoes recipe will impress you with its delicious flavor and how easy it is to prepare! Much like scalloped potatoes, Dauphinoise Potatoes is a French style potato casserole featuring layers of thinly sliced potatoes that are slowly baked in a casserole dish with cream and/or milk and often grated cheese, such as Gruyere. With this Dauphinoise Potatoes recipe, the sliced potatoes are first simmered for 10 minutes in a seasoned milk and cream mixture. The tenderized sliced potatoes are then transferred to a baking dish in two layers, with the grated cheese sprinkled on top of each layer. The seasoned milk and cream mixture is then poured over the potatoes, and the potatoes are baked until tender, golden and crispy on top.
Though golden potatoes will produce a more tender and moist result,
this Dauphinoise Potatoes recipe will taste outstanding whether made with golden or Russet potatoes. Sometimes grocery stores have some great deals on 5 or 10-pound bags of potatoes (I've even seen deals as low as 99 cents for a 10-pound bag of Russet potatoes!), so if you'd like to exercise a little frugality and opt for the savings, either type of potato will work wonderfully. Gruyere cheese or white cheddar cheese can be used with this recipe as well. Which type of cheese you use is simply a matter of personal preference or the availability of each type of cheese. If you enjoy cheesy scalloped potatoes, then feel free to add up to 1/2 cup of extra grated cheese to this Dauphinoise Potatoes recipe!
This potato casserole recipe makes a good amount, so if you find yourself with some leftovers, consider yourself lucky! To reheat your leftovers, you can simply heat them in the microwave (covered) on high for a minute or two or until sizzling and heated through. Or, if you really enjoy that golden crispy top that you get when scalloped potatoes first come out of the oven, you can place your leftover Dauphinoise Potatoes on a baking sheet and stick them under the broiler until they're heated through and turn crispy and golden on top. Either method will taste great, though you may want to eat the leftover potatoes within 2-3 days, because the potatoes will tend to soak up the creamy sauce, making them slightly dryer (golden potatoes such as Golden Yukon might not soak up the moisture as quickly as Russet potatoes). Alternatively, you can freeze the leftovers to reheat at a later time.
Ingredients
3 lbs. potatoes (golden or Russet), peeled and thinly sliced (about 6-7 cups)
4 cups whole milk
1/2 cup heavy whipping cream
1-2 fresh sprigs of fresh thyme
1 tablespoon butter
salt and freshly ground black pepper to taste
pinch of ground nutmeg
1 to 1 1/2 cups grated Gruyere or white cheddar cheese
Directions
Preheat oven to 375°F. Lightly butter a 2-quart (about an 8x12x2-inch)
casserole dish
.
In a large saucepan, combine potatoes, milk, cream, thyme, butter salt, pepper and nutmeg. Bring to a boil over medium heat, then immediately reduce heat to low and simmer, uncovered, for about 10 minutes or until potatoes are slightly tender.
Using a slotted spoon or other slotted utensil, transfer half of the potatoes from the saucepan to the prepared
casserole dish
, evenly spreading around. Evenly sprinkle half of the grated cheese over the top of the potatoes. Using the slotted spoon, transfer the remaining potatoes to the casserole dish, arranging evenly over the first cheese layer. Evenly sprinkle again with remaining cheese over the top of the second layer of potatoes.
Remove sprig(s) of thyme from the milk and cream mixture, then gently pour evenly over the top of the potatoes, being careful not to disrupt top layer of cheese.
Bake in preheated oven for 45 minutes to 1 hour, or until crisp and golden brown on top.
Other recipes you might like: