Vegetable Soup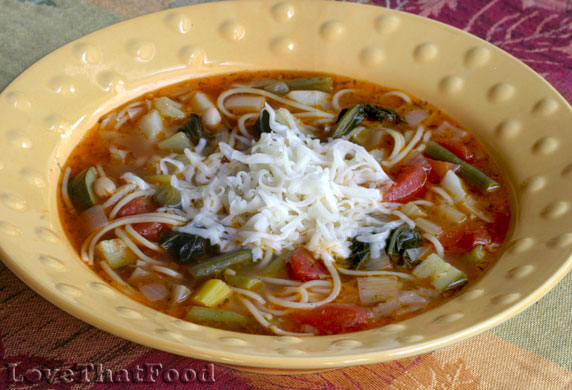 Cook Time:
About 45 minutes
Tips:
Pinto beans or garbanzo beans may be substituted for white beans. Any type of cheese may be used to garnish soup. Also delicious topped with pre-packaged croutons or
homemade croutons
. If desired, bite-size chunks of cooked chicken or turkey or small cooked shrimp may be added at beginning of cooking time.
Vegetable soup is always a great way to get a generous helping of vegetables in one meal, and has warm and satisfying flavor to boot! This vegetable soup recipe features eight vegetables, each one adding its own great flavor and texture to the tasty broth, not to mention great color! Some white beans (pinto beans, garbanzo beans (chickpeas) or other beans may also be used) and noodles are also added, giving this soup something extra to sink your teeth into. Let's first talk about the vegetables. This easy healthy soup features zucchini, celery, spinach, tomatoes, onion, green beans, leek and potato, all of which are cut into nice bite-size chunks. Only the onions are first sautéed in some olive oil; the remaining vegetables are simply added to the pot. (If you love corn, feel free to add a small can (6-8 oz. can).
When it comes to exploring healthy soup recipes for weight loss, vegetable soups are always a popular choice, not only because of their nutritional value, but because they are almost always low in calories. You can easily reduce the calories in this soup simply by omitting the noodles and/or white beans, though you might find yourself hungry again a little sooner than if you had included the noodles and beans. You can also add some additional flavor (and
protein) to this vegetable soup, simply by adding some cooked bite-size chunks of chicken or turkey or some small cooked shrimp at the same time you add the vegetables to the soup pot.
Another great thing about this vegetable soup is how quick and easy it is to make. The soup basically takes 30 minutes to cook, with only a few minutes more to sauté the onions and to cook the noodles and heat the beans during the last 5 minutes of the cooking time. This vegetable soup recipe calls for vermicelli noodles, though other thin long noodles may be used, such as spaghetti, capellini, etc. Breaking the noodles into halves or thirds might make dishing this soup up a little easier, though is not necessary. If you enjoy vegetable soup with a generous amount of broth, feel free to add an addtional cup of water at the beginning of cooking. If you have any leftovers and notice after taking them out of the refrigerator that there appears to be less broth (likely due to the beans and noodles soaking up some of the broth), you can add some canned vegetable broth, if desired, though you might want to season the soup with a little more salt and pepper if you do.
Lastly, what really gives this vegetable soup its fabulous final touch is a generous topping of grated swiss cheese (or any other cheese you prefer, such as pepper jack, cheddar, mozzarella, smokey cheeses, etc.). Yes, this will add on a few more calories, but will make this soup more filling and satisfying - and oh, the flavor! Sprinkling a few croutons on top of that will add even more spectacular flavor as well as a welcomed crunch! (Caesar flavored croutons add great seasoning to this soup, though any flavor croutons will do. If you'd like to make your own homemade croutons, see
Croutons
.)
Ingredients
Vegetable Soup

1 large onion, diced (about 1 cup)
1/4 cup olive oil
1 1/2 quarts water
4 large tomatoes, peeled, seeded and diced (3 cups) or 1 23-28-oz. can, cut up
1/2 lb. green beans, cut into 1-inch pieces
1 medium zucchini, cut into bite-size pieces
1 potato, peeled and cut into bite-size chunks
1 cup diced leeks (white and light green parts only)
1 cup diced celery
1/4 lb. spinach leaves, chopped or 1/2 10-oz. box frozen
3 cloves garlic, minced
2 tablespoons salt
2 teaspoons salt
1/2 teaspoon crushed thyme leaves
1 tablespoon chopped fresh parsley or 1 teaspoon parsley
1/2 teaspoon tarragon
1 tablespoon diced fresh chives or 1/2 teaspoon dried chives
dash pepper
5 oz. vermicelli noodles (or other long, thin noodles)
1 15-oz. can white beans (or other beans), drained



Garnishes



1/2 lb. swiss cheese, grated (or other preferred cheese)
croutons (flavored pre-packaged or homemade) - (optional, though recommended)
Directions
Heat oil over medium heat in a large soup pot and add onion. Reduce heat to low-medium and sauté onion until tender (about 7-10 minutes), stirring frequently. Add all soup ingredients except noodles and canned beans. Bring to a boil, then reduce heat, cover and simmer, for 30 minutes. Add vermicelli noodles and beans and cook until vermicelli is tender (about 5 minutes). Ladle soup into bowls and garnish with grated Swiss cheese (or other cheese) and croutons, if desired.
Other recipes you might like: