Sweet and Sour Carrots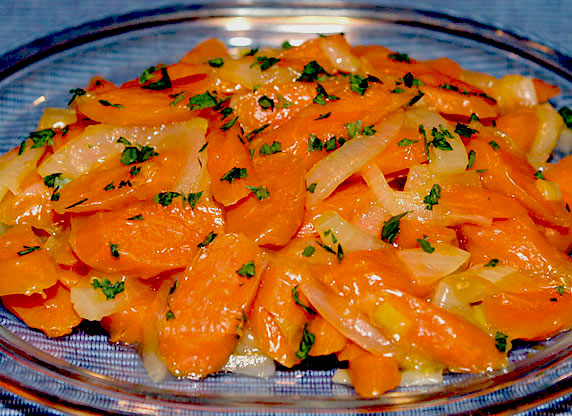 Sweet and Sour Carrots are a nice change from other vegetable side dishes,
offering lively flavor as well as vibrant and festive color. This Sweet and Sour Carrots recipe features diagonally sliced carrots and thinly sliced onions that are briefly sauteed in oil. These vegetables are then cooked for about 4 minutes in a sweet and sour sauce made with chicken broth, vinegar, brown sugar and cornstarch (the cornstarch is used as a thckening agent for the sauce). The result is an elegant side dish of crisp-tender vegetables that taste as lively as they are colorful! This Sweet and Sour Carrot recipe will brighten up most any meat, poultry or seafood dish. They also are a great vegetable accompaniment to most Asian dishes.
Ingredients
1/4 cup chicken broth
2 tablespoons vinegar
2 tablespoons firmly packed brown sugar
1 tablespoon cornstarch
1 tablespoon salad oil
1 pound carrots (about 6 medium-sized), sliced diagonally into 1/4-inch pieces
1 small onion, cut in half, then cut crosswise into 1/4-inch thick slices
3 tablespoons chicken broth
salt
minced fresh parsley (optional)
Directions
In a small mixing bowl, whisk together the 1/4 cup of broth, vinegar, sugar and cornstarch. Set aside.

Place a skillet or wok over high heat. When skillet or wok is hot, add oil. When oil is hot, add carrots and onion and stir-fry for about 1 minute. Add the 3 tablespoons broth and reduce heat to medium. Cover and cook until carrots are tender-crisp to bite (about 4 minutes).

Increase heat to high. Stir cornstarch mixture again, then add to carrots and onions. Cook, stirring gently, until sauce boils and thickens. Season to taste with salt. Sprinkle parsley on top if desired.
Other recipes you might like: