Sweet and Sour Cucumbers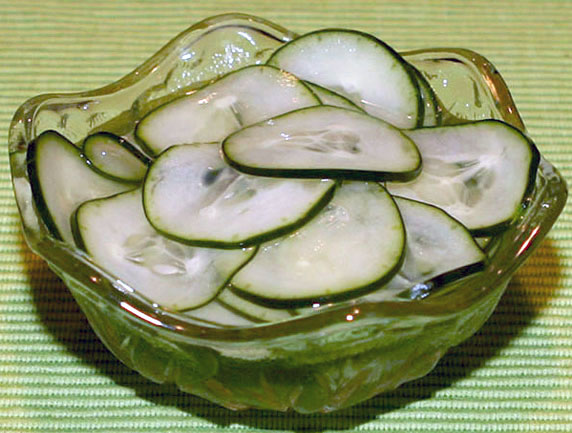 Tips:
Cucumber skin can be left on or peeled off. Seeds may also be removed if desired. You can also cut quartered slices or whole round slices.
Suggestion:
Great as a filler ingredient for Lettuce Wraps, or as a side with spicy Thai, Indian or Mexican dishes.
Sweet and Sour Cucumbers are simply thinly sliced cucumbers
that are marinated in a sweet and sour marinade made with rice vinegar and sugar. They are very easy and inexpensive to make, considering the only ingredient is the cucumber along with a few items you most likely already have in your pantry. Sweet & Sour Cucumbers are great as an accompaniment to any main course, especially spicy dishes, such as Thai, Indian and Asian dishes. The are great when used as a filler ingredient, as in Thai
Lettuce Wraps
, can also add a kick to a turkey, chicken or tuna sandwiches, giving them them a little crunch and added tangy flavor. Sweet and Sour cucumbers can also be added to a large variety of salads. With a little imagination, you'll probably find a dozen other ways to serve them!
Ingredients
1/3 cup rice vinegar
1/4 cup sugar
1/4 cup water
1/4 teaspoon salt
1/4 teaspoon course ground black pepper
1 large cucumber
Directions
In a small sauce pan, combine vinegar, sugar, water and salt. Over medium heat, stirring constantly until liquid boils and sugar is completely dissolved. Remove from heat and allow to cool to room temperature. While mixture is cooling, peel cucumber if desired, then cut lengthwise into quarters. Cut quarters crosswise into 1/8-inch-thick slices. Place in a serving bowl or container with lid and pour marinade over cucumbers. Serve immediately or store in refrigerator until ready to serve.
Other recipes you might like: