Salmon with Penne Pasta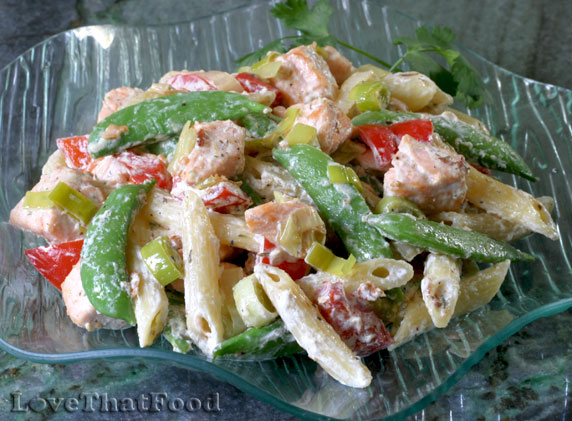 Cook Time:
About 20 minutes
Tips:
Reheat refrigerated leftovers for about 1 minute in microwave, then briefly toss and serve.
Suggestion:
Delicious as a lunch or light dinner, served with rolls or a side of
bread
.
This healthy pasta dish is a terrific way of preparing salmon, and has wonderful fresh flavor, not to mention the vibrant colors it brings to the table! Salmon with Penne Pasta features bite-size chunks of salmon, sugar snap peas, chopped red bell pepper, one diced leek and penne pasta (tube-shaped pasta with ridges that help hold on to sauces and flavors). These fresh ingredients are tossed with an easy light,
creamy and delightful lemon and dill flavored sauce that brings this whole salmon dish together!
This seafood pasta recipe is also super easy to whip up on the stove. While the pasta is cooking to al dente, the salmon chunks are briefly browned in a skillet in a little olive oil. The salmon is then set aside while the vegetables are sautéed in the pan just long enough to bring them to a tender-crisp state. Once the vegetables are ready, the chunks of salmon are added back to the skillet along with the penne pasta. Then comes the magnificent part! A simple yet light and fabulous mixture of sour cream, dried dill weed and lemon zest is stirred into the salmon, pasta and vegetable mixture, and a little salt and pepper is added for flavor. The lemon and dill flavored sour cream perfectly compliments this salmon dish, and can be made with light sour cream if you prefer low calorie recipes (though even with regular sour cream, this salmon dish is pretty darn low in calories!).
Ingredients
2 cups sour cream
2 teaspoons grated lemon peel
2 teaspoons dried dill weed
4 cups penne pasta
1 tablespoon olive oil (or more as needed)
1 lb. salmon fillet, skinned and cut into 1-inch cubes
1 leek, rinsed and diced
1 red bell pepper, seeded and chopped
2 cups sugar snap peas
salt and pepper to taste
Directions
In a
mixing bowl
, combine sour cream, lemon peel and dill weed. Stir until thoroughly blended and set aside.
Cook pasta according to package directions or until al dente, then drain in a colander.
Heat olive oil in a large skillet over medium-high heat until hot but not smoking. Add salmon chunks, then cook and stir until salmon lightens in color (about 4 minutes). Remove salmon from skillet and set aside in a bowl.
Add diced leek to the skillet and cook for 1 minute, stirring constantly. Add bell pepper and peas and cook for an additional 3 minutes, stirring constantly.
Reduce heat to medium-low, then add the cooked and drained pasta, salmon and sour cream mixture. Sprinkle with salt and pepper to taste, then stir gently to coat and heat through (about 1-2 minutes). Serve.
Other recipes you might like: