Chile Cheese Bread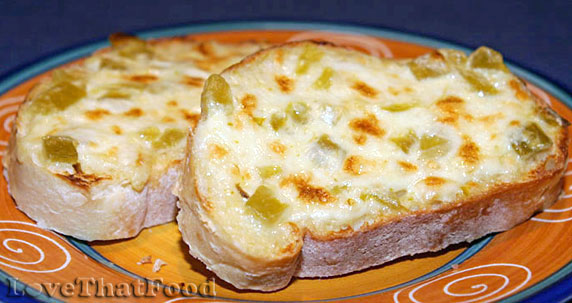 Yield:
About 2 cups of spread or 1 loaf or more of bread (depending on loaf size)
Cook Time:
About 2 minutes
Tips:
See recipe for alternate methods of preparation.
Suggestion:
Serve with Chicken Chipotle Ranch Salad.
Chile Cheese Bread features an easy-to-make bread spread consisting of Monterey jack cheese, diced green chiles and mayonnaise. The chile cheese spread can
be applied to a loaf of bread (French bread, Italian bread, sour dough bread or any other long crusty style bread) in one of two ways (see recipe for alternate application methods), This festive bread recipe is colorful and makes a wonderful complimentary bread side to Mexican dishes or a large variety of main courses, as well as salads, soups and stews. If serving a small crowd, you can use the spread on only the amount of bread you'll be serving, then store the leftover spread in an air-tight container in the refrigerator. The spread will stay fresh up to the expiration date of your cheese. Chile Cheese Bread can also be made into mini appetizers using long, slim loaves of bread, simply by using one of the application methods shown below.
Ingredients
1 loaf sourdough or French bread
3 cups Jack cheese, grated
1 4oz. can diced green chiles
1 cup mayonnaise
Directions
With an electric mixer, blend all ingredients except bread until light and fluffy. Apply cheese spread to bread using one of the following methods:
Individual Slices
Spread on sliced pieces of bread and toast under broiler for about 2 minutes or until light golden brown.
Entire Loaf
Slice a long loaf of bread in half lengthwise and spread each half with the cheese mixture, then toast the two loaves in the broiler for about 2 minutes or until light golden brown. Once done, slice the loaf halves width-wise into individual slices.
Other recipes you might like: