Cheese Bread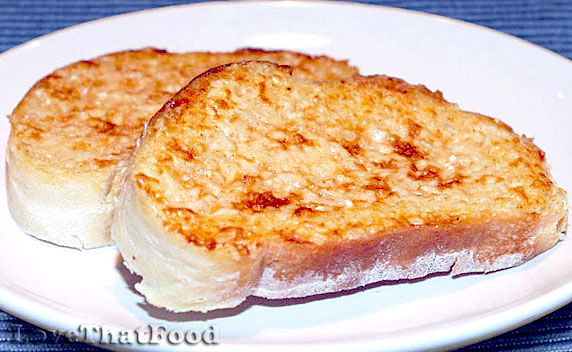 Yield:
About 1 1/2 cups of spread and 1 large loaf of bread
Cook Time:
About 2 minutes
Tips:
See recipe for alternate methods of preparation.
Suggestion:
Delicious served with any main course, salad or soup.
If you've ever wondered how to make cheese bread, it's actually very easy
to put together. All you need to make this Cheese Bread recipe is some softened butter, cheddar cheese, Romano cheese, Worcestershire sauce, garlic powder and paprika. It's simply a matter of mixing these ingredients together, then spreading them over your favorite bread (French bread, sourdough bread, ciabatta, or any other bread type will do).
Cheese Bread is a nice change from garlic bread, biscuits or rolls or other breads because it has a tangy flavor that awakens any main course. You can use this cheese spread on an entire loaf of bread all at once, or use it on a few individual slices and save the rest in the refrigerator for future use. You can also apply this spread two different ways to produce different cuts of bread slices (see recipe for alternate preparation methods)
Ingredients
sourdough, French or other bread
1 cup (2 sticks) butter
4 oz. sharp cheddar cheese, grated
2 oz. Romano cheese, grated
1/2 teaspoon Worcestershire
1/8 teaspoon garlic powder
1/4 teaspoon paprika
Directions
With an electric mixer, blend all ingredients except bread until light and fluffy. Apply cheese spread to bread using one of the following methods:
Individual Slices
Spread on sliced pieces of bread and toast under broiler for about 2 minutes or until light golden brown.
Entire Loaf
Slice a long loaf of bread in half lengthwise and spread each half with the cheese mixture, then toast the two loaves in the broiler for about 2 minutes or until light golden brown. Once done, slice the loaf halves width-wise into individual slices.
Other recipes you might like: