Chicken Linguine with Spicy Peanut Sauce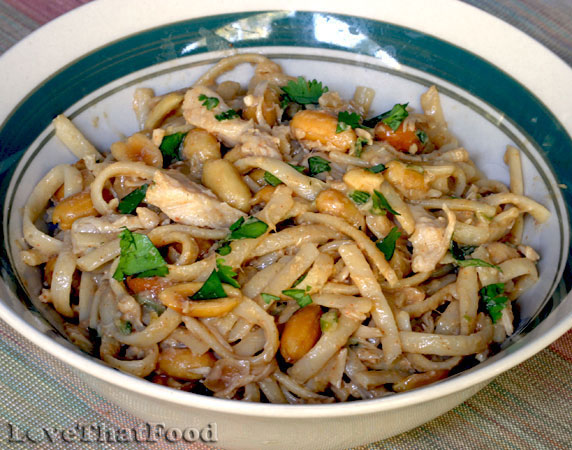 Cook Time:
8-10 minutes (for pasta)
Suggestion:
Delicious served with a side of bread and a leafy green salad.
Chicken Linguine with Spicy Peanut Sauce is a quick and easy pasta recipe
that caters to all ages. Linguine noodles are cooked, then combined with chunks of chicken breast, salted peanuts and sliced green onions. These combined ingredients are then tossed with a delicious peanut sauce that has the perfect blend of spice, tanginess and robust flavor. This pleasantly spicy peanut sauce is made with peanut butter, rice vinegar, soy sauce, Asian sesame oil, fresh ginger root, cayenne pepper and a little sugar. This easy chicken noodle dish makes a great last minute meal, and any leftovers taste just as great reheated in the microwave later. If you'd like to serve another version of this dish as a delicious cold salad, see
Chicken Noodle Salad with Spicy Peanut Dressing
.
Ingredients
Spicy Peanut Sauce

6 tablespoons creamy peanut butter
3 tablespoons rice vinegar
3 tablespoons soy sauce
1 1/2 tablespoons sugar
1 tablespoon Asian Sesame oil
1 tablespoon minced peeled fresh ginger root
1/2 teaspoon cayenne pepper



Chicken Linguine

1 12 1/2-oz. can cooked chicken breast (or 1 cooked cooked chicken breast)
8 oz. uncooked linguine
1/2 cup chopped green onions
1/4 to 1/3 cup salted peanuts (depending on preference)
1/4 cup chopped fresh cilantro leaves
Directions
Spicy Peanut Sauce
Drain chicken, reserving 1/4 cup of the broth. Set chicken aside. (Note: If using a cooked chicken breast instead of canned cooked chicken, packaged chicken broth or chicken broth made with bouillon and water may be used in place of the broth from the can of chicken.)
In a small mixing bowl, whisk together the 1/4 cup of reserved broth, peanut butter, vinegar, soy sauce, sugar, sesame oil, ginger and cayenne until blended. Set aside.
Chicken Linguine
Cook linguine according to package directions. Drain pasta in a collander, then transfer pasta to a medium or large mixing bowl. Add chicken, chopped green onions and peanuts. Pour Spicy Peanut Sauce over all and toss until thoroughly coated. Garnish over the top with chopped cilantro.
Other recipes you might like: