Peanut Butter Chicken Salad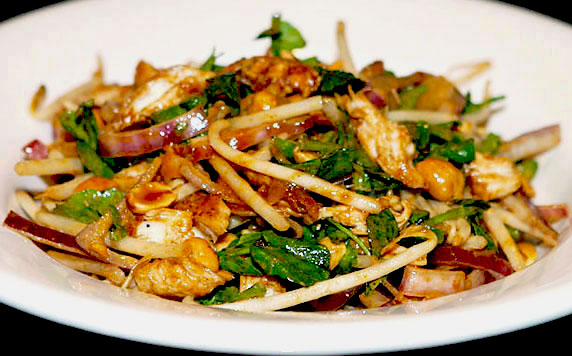 Tips:
Cook your own chicken or use pre-cooked whole chicken from store.
Suggestion:
Delicious served as a main course with a side of
bread
or as a side dish.
Peanut Butter Chicken Salad is a unique and delicious salad recipe, featuring shredded
chicken, bean sprouts, watercress, thinly sliced red onion and peanuts. These fresh ingredients are tossed with a mildly spicy Asian-flavored peanut butter dressing that gives this salad its originality and distinctly fabulous flavor. The salad dressing is made with peanut butter, soy sauce, white wine, vinegar,sesame oil, garlic, dry mustard, curry powder, a touch of sugar and Tabasco, and is truly delightful when tossed with this salad.
This salad can easily serve as a main course, or as a side salad to a main course of chicken, fish or most any meat. It's also a great salad for parties, picnics and barbecues, and will impress your guests!
Ingredients
Salad

1/2 lb. bean sprouts
2 c. shredded, cooked chicken
1 1/2 c. watercress leaves
1 small red onion, halved & thinly sliced
1/3 c. peanuts



Dressing

3 T. peanut butter
2 T each soy sauce & white wine
1 t. vinegar
1 T oil
1 t. each sesame oil & sugar
1 clove garlic, crushed
1/2 t. both dry mustard & curry powder
4 dashes Tabasco
Directions
In small mixing bowl, whisk together all Dressing ingredients until well combined. Set aside. In medium mixing bowl, add all salad ingredients and gently toss. Add dressing to salad and toss to thoroughly coat. Serve.
Other recipes you might like: