Soups and Stews
Rainy days are known for being the best time to throw together a pot of soup or stew (or chili), but who says you need a rainy day to treat yourself to a tasty hot bowl of delicious comfort food? Soup is always delicious no matter what the weather is like outside,
and makes you feel warm and cozy inside. It also almost always is very healthy, containing an assortment of ingredients often with packed with vitamins, minerals, proteins and more. Soup is one of the easiest meals to prepare, and most recipes make plenty for everyone, as well as abundant leftovers. It also stores well in the refrigerator or freezer, and is a cinch to reheat later (and in fact tends to gain more flavor after having been stored in the fridge overnight). Whether you enjoy soups that are chunky or creamy, mild or spicy, thick or brothy, there are endless varieties from which to choose. Below you will find soup recipes made with chicken, potato, vegetable, split pea, beans, ground beef, ground pork, turkey, cheese and more. You may also want to check out the
Bread
page for an accompanying bread for your soup or stew recipe.
Homemade Croutons
also taste fabulous sprinkled over soup, offering crunch and added flavor.
Soup and Stew Recipes ▼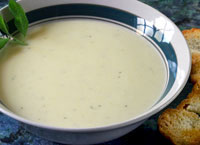 This
Creamy Potato Leek Soup
has those same great qualities of creamy potato soup, while adding abundant additional flavor from leeks, celery and onion, as well as some fresh sage, fresh thyme, chicken stock - and lastly, some heavy cream for that undeniable and irresistable creamy consistency. This particular soup recipe is an Irish soup, and is also sometimes more simply referred to as leek soup, even though it contains potatoes.
Egg Drop Soup
is a Chinese soup made with chicken stock, eggs, thinly sliced green onions (and in this recipe, peas), and is hands down one of the easiest soups you will ever make. This soup is appropriately called Egg Drop Soup (or Egg Flower Soup) because the eggs are literally 'dropped' into the chicken stock and then gently swished around in the stock with a pair of chopsticks, creating wispy 'flower' shapes.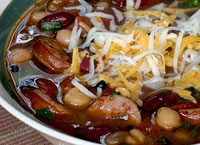 If you're looking for an easy soup recipe that takes only minutes to cook, this
Four Bean Soup with Smoked Sausage recipe
is for you! This delicious soup features four types of canned beans (white beans, garbanzo beans, black beans and kidney beans), giving this soup lively color and great flavor. Slices of smoked sausage are added, along with diced tomatoes, diced green chiles and seasonings. This soup cooks in just 10 minutes!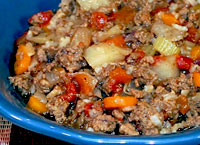 Goulash
originated as a Hungarian dish (often called "Hungarian Goulash"), but has become a well-known American dish. Goulash combines a mixture of ingredients that are simmered together, much like soup or stew. This
Goulash recipe
features ground beef, rice, potatoes, carrots, onions, celery, tomatoes and shredded cabbage, producing a delicious and satisfying meal that can be served alone or over rice or pasta.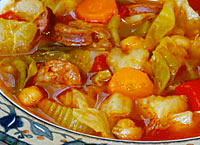 This
Hawaiian Portuguese Soup recipe
gets its unique and colorful flavor from the wonderful combination of ingredients, as well as a hint of anise and cinnamon. Garbanzo beans (chick peas), ham hocks, linguica, potatoes, carrots, celery, stewed tomatoes and cabbage add beautiful color and delightful flavor to this soup. This recipe produces a large amount of soup, and leftovers can be frozen and saved for a rainy day!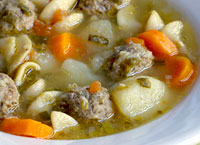 This recipe for
Meatball Soup
uses all those basic comfort ingredients we love - seasoned meatballs (made with lean ground beef, turkey or chicken and rice) and hefty bite-size chunks of potatoes, carrots and noodles. Some diced tomatoes sneak their way into this soup as well, after being sautéed with some diced green onions and minced garlic, adding wonderful seasoning to the broth.