Creamy Potato Leek Soup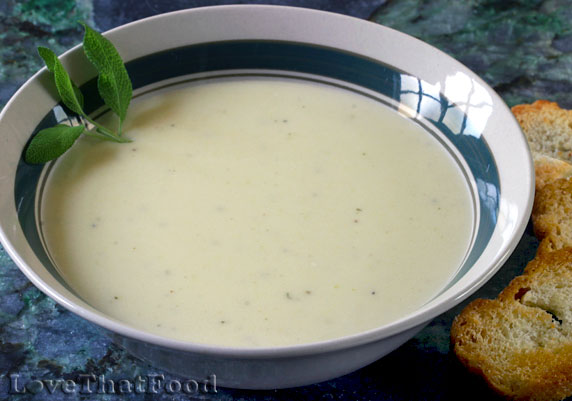 Cook Time:
About 30 minutes
Tips:
Soup may need to be puréed in 2 portions if the entire soup will not fit into
blender
or
food processor
.
Most of us at one time or another have had the pleasure of sitting down to a hot bowl of creamy potato soup, and know the warm, comforting feeling it brings, not to mention that great and satisfying potato flavor! This Creamy Potato Leek Soup has those same great qualities of creamy potato soup, while adding abundant additional flavor from leeks, celery and onion, as well as some fresh sage, fresh thyme, chicken stock - and lastly, some heavy cream for that undeniable and irresistable creamy consistency. This particular Creamy Potato Leek soup recipe is an Irish potato soup, and is also sometimes more
simply referred to as leek soup, even though it contains potatoes.
Making this soup is very easy, and takes about 30 minutes from start to finish! The leeks, onion and celery are first sautéed together in butter. Once the sauéed vegetables have become translucent, the potatoes, chicken broth and fresh herbs are added to the pot, and the soup ingredients simmer together on the stove until the potatoes become tender, which only takes about 20 minutes. Into a blender or food processor these ingredients go, where they will be puréed into a creamy consistency. The puréed soup ingredients are then poured into a soup pot, where the cream is stirred in and briefly heated. A little salt and pepper are added to taste, and this delicious Creamy Potato Leek Soup is ready to serve! This soup is beautifully accompanied by some
Croutons
or broken pieces of
Baked Crostini
sprinkled over the top, or served with some
Flaky Buttermilk Biscuits
,
Crusty French Bread
or
Garlic Bread
to help you mop up every last bite!
If you enjoy Irish soup and/or potato soup, or simply appreciate healthy soup recipes, you might also enjoy
Creamy Irish Vegetable Soup
, which also features potato (only 1), along with carrots, celery and cilantro.
Ingredients
4 tablespoons (1/2 stick) butter
1 1/4 lbs. leeks, cleaned and sliced (white part only)
1 cup chopped onion
3/4 cup chopped celery
4 cups chicken broth or chicken stock
8-10 oz. potatoes, peeled and chopped
1 fresh sage leaf
leaves from 1 sprig of fresh thyme
salt and freshly ground black pepper to taste
1/2 cup heavy whipping cream
Directions
In a large saucepan over medium-low heat, melt butter. Add sliced leeks, onion and celery and sauté until onion is translucent (about 7 minutes), being careful not to brown the vegetables. Add chicken broth, potatoes, thyme and sage and bring to a boil. Once brought to a boil, reduce heat to low and simmer (partially covered) for 20 minutes, or until the vegetables are tender.
Transfer soup to a
blender
or
food processor
(in 2 separate portions if entire amount will not fit all at once) and purée until smooth. Strain through a fine-meshed sieve into a saucepan over low-medium heat. Season to taste with salt and pepper, then stir in cream. Continue stirring until fully blended and heated through. Serve. Delicious topped with
Croutons
or broken bits of
Baked Crostini
, or with a side of
bread
.
Other recipes you might like: