Salad Dressings
Once you discover how easy it is to make your own salad dressing and how delicious and fresh homemade tastes, those bottled dressings from the store will lose their luster. Making homemade salad dressing is a simple matter of combining a few
liquid ingredients (such as oil, vinegar, lemon juice, etc.), herbs and/or spices, and maybe one or more thickening agents (such as mayonnaise, yogurt, mustard, peanut butter, avocado, etc.) then whisking those ingredients in a bowl or shaking them in a jar. Better yet, chances are you already have most ingredients in your pantry and/or fridge.
Though the salad dressings on this page can be also found on the individual salad recipes on the Salads page, these salad dressing recipes can be used with any leafy greens or any other type of salad that is well complimented by salad dressing. Salad dressings with thicker consistencies such as Avocado Lemon Dill, Yogurt Avocado, Chipotle Ranch and Zesty Ranch can also be used as dips for fresh vegetables as an appetizer or snack. Once you try making your own homemade salad dressing, you may never go back!
Salad Dressing Recipes ▼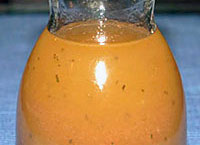 This
homemade Italian Dressing recipe
is proof positive that you don't need to run to the store to grab a bottle of prepared Italian dressing! This Italian Dressing is tangy and full of lively flavor, and can be used with green salad, pasta salad or potato salad, and can be used as a basting sauce for grilling chicken and fish. This dressing is made with olive oil and red wine vinegar with a little garlic, Dijon mustard, honey and lemon juice.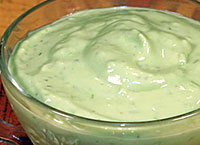 Yogurt Avocado Salad Dressing
features avocado, lemon and dill, deriving its creaminess from yogurt (plain or lemon) and milk. It is lighter than one would imagine, and is wonderful used with a variety of leafy green salads, This avocado salad dressing can also be used as a topping for omelettes, hamburgers and sandwiches, as a garnish with Mexican dishes, or as a colorful and creamy dip for fresh vegetables.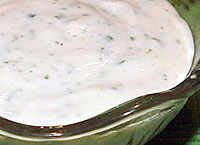 This homemade
Zesty Ranch dressing recipe
features some traditional ingredients found in many ranch dressing recipes, such as buttermilk, mayonnaise and sour cream, along with some seasoning and minced chives. What gives this ranch dressing recipe its distinctive "zest" is the addition of prepared horseradish and wine (or rice) vinegar. This salad dressing is like buttermilk ranch dressing in high gear!