Salmon with Sweet and Sour Coriander Sauce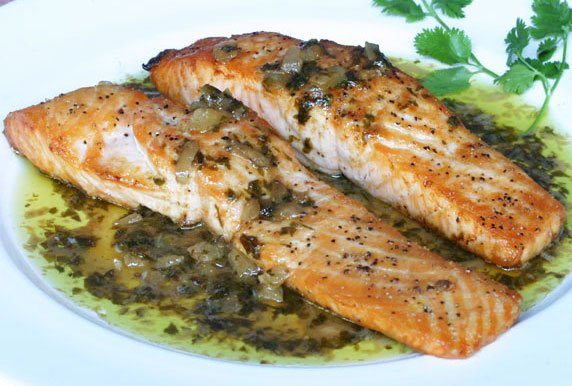 Tips:
Coriander is also known as cilantro leaves.
Suggestion:
Garnish with fresh coriander and/or peeled grapefruit slices, if desired.
Tender broiled salmon fillets are beautifully complimented by a delicious sweet and tangy sauce in this
Salmon with Sweet and Sour Coriander Sauce recipe. The sauce is made with a combination of butter, diced onions, finely chopped coriander (also known as fresh cilantro), freshly squeezed grapefruit juice, white wine vinegar, Dijon mustard and cumin, and takes less than 10 minutes to make.
One grapefruit will easily provide enough juice for the sauce, and you likely will only need to use one-half of the grapefruit. If you plan on garnishing this dish with peeled whole slices of grapefruit, it's best to slice the grapefruit in a direction that will leave the remaining grapefruit sections still in tact. Once you've squeezed the juice, any remaining grapefruit sections can be left whole or cut, then placed on the platter with the salmon. This easy salmon recipe is truly divine!
Ingredients
2 lbs. salmon fillets
olive oil
salt and pepper



Coriander Sauce

3 tablespoons butter
1/3 cup diced onions
2 tablespoons finely chopped coriander (cilantro leaves)
2 tablespoons white wine vinegar
1/3 cup freshly squeezed grapefruit juice (one grapefruit will provide enough juice)
1/4 teaspoon Dijon mustard
1/8 to 1/4 teaspoon cumin



Garnishes

(optional)
coriander leaves
peeled grapefruit slices
Directions
Get all ingredients ready for sauce (including chopping and measuring) and place near cooking area.
Salmon
Preheat broiler. Line a baking sheet lined with aluminum foil and spray foil with non-stick spray (or brush with olive oil). Place fillets on aluminum foil. Lightly coat tops of fillets with olive oil, then lightly season with salt and black pepper. Broil on top rack for about 5 minutes per side or just until salmon is cooked through (be careful not to overcook). Remove from broiler and cover with aluminum foil to keep warm while preparing sauce.
Coriander Sauce
Melt butter in a large skillet, then add onions and saute over low-medium heat for 5 minutes, stirring frequently. Add coriander and cook for 1 minute, stirring constantly. Add vinegar, then increase heat to medium-high (at a continuous medium boil) and cook for about 2 minutes, stirring constantly, until the vinegar has nearly evaporated.
Remove skillet from heat, then stir in grapefruit juice, mustard and cumin. Reduce heat to low and cook for 1 minute longer, stirring constantly, or until the sauce reaches desired consistency.
Pour sauce on a platter and top with the salmon fillets, pouring some of the sauce on top if desired. Garnish with coriander leaves and/or grapefruit slices, if desired.
Other recipes you might like: