Dijon Crusted Halibut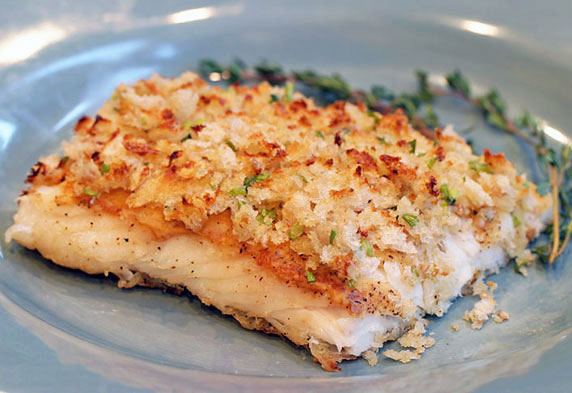 Cook Time:
About 15 minutes.
Tips:
Cod, tilapia or other white flaky fish may be used in place of the halibut.
Dijon Crusted Halibut is a quick and easy (and delicious) fish recipe that will add flavor and texture to these light and flaky fillets. In just minutes, the fillets
are fried in a little olive oil, along with some garlic and fresh thyme. Dijon mustard is then spread over the tops of the filets, giving them a mild tangy flavor boost. A simple mixture of fresh bread crumbs (made from any bread you prefer or have in your kitchen - photo shows a halibut fillet topped with sourdough bread crumbs), chives and olive oil are gently pressed onto the tops of the fillets, then the fillets are broiled to a light golden brown. The result is a light and flaky filet with a mildly tangy flavor and nice crisp. As with most halibut recipes, these fillets can be accompanied by a side of any sauce of your choice, though they are delicious as shown above, without sauce. This recipe will work with other white flaky types of fish as well, such as tilapia and cod.
Ingredients
About 1 1/2 lbs. halibut fillets (equivalent to 4 6-oz. fillets)
2 tablespoons olive oil, divided
salt and pepper
2 garlic cloves, crushed
a few sprigs of fresh thyme
3 tablespoons Dijon mustard
1 cup fresh bread crumbs (made from your choice of bread)
2 tablespoons minced chives
Directions
Pat dry halibut fillets with paper towels. Season the fillets with salt and pepper. Heat 1 tablespoon olive oil in a large skillet over medium-high heat, then gently transfer fillets into the pan along with the garlic and thyme. Sear the fillets for 3 minutes, then turn them over and cook for 3 minutes more. Reduce the heat to medium and cook for another 3-4 minutes or until the fillets turn opaque but still appear moist and flake apart lightly when pressed with a fork.

Preheat the broiler. Cover a baking sheet with aluminum foil. Place the seared halibut fillets on foil, then spread mustard evenly over tops of fillets. Mix together bread crumbs, chives and 1 tablespoon of olive oil and pat evenly over tops of fillets. Broil just until the crumbs begin to turn golden brown.
Other recipes you might like: