Fish Tacos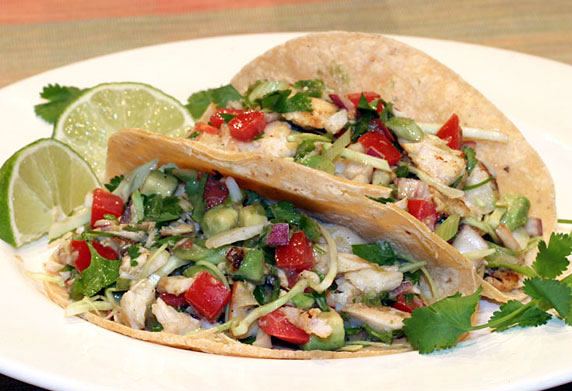 Tips:
Corn or flour tortillas may be used, and may be served warmed or crispy-fried. Fish may be marinated for 1-3 hours or overnight.
Suggestion:
If desired, serve with tortilla chips & salsa.
The above photo shows this healthy Fish Tacos recipe featuring grilled and flaked halibut fillets, but you can certainly use any other flaky fish you prefer, such as (but not limited to!) cod, tilapia, mahi mahi or swordfish. Basically, any fish that flakes well can be used for these fish tacos. The secret to the unmistakable freshness and rich color of these fish tacos is in the three-part preparation:
The marinade, the taco filling and the salsa, with one common theme being used throughout all three - freshly squeezed lime juice. The halibut fillets soak in a marinade made with wine, olive oil, garlic, green onions, fresh lemon and lime juice (and lime zest) for 1-3 hours (may be soaked overnight). The fillets are then quickly grilled, flaked, then combined with the other filling ingredients (thinly sliced cabbage, green onions and cilantro). The fresh and colorful salsa is (made with diced avocadoes, tomatoes, red onion, jalapeno and cilantro, all bathed in more freshly squeezed lime juice) is served as a gorgeous garnish on the side. Sliced wedges of lime are also served with these fish tacos to give them an additional squeeze of that fresh lime flavor that so perfectly compliments the fish and other ingredients. You can use corn or flour tortillas with this recipe, and depending on your preference, may serve them simply warmed or crispy-fried. (Photo shows fish tacos served in warmed corn tortillas.)
Ingredients
Marinade

1 1/4 cups white wine
1/4 cup fresh lemon juice
1/2 cup olive oil
3 tablespoons crushed garlic
juice and grated peel of 1 lime
1 green onion, thinly sliced
1/4 teaspoon salt



Salsa

4-5 ripe tomatoes, diced
1 avocado, diced
1/4 cup fresh lime juice
1/4 cup fresh cilantro, chopped
1-2 jalapenos (stems and seeds removed), minced
1/2 cup finely chopped red onion
salt and pepper to taste



Taco Filling

2 lbs. halibut fillets
8 corn or flour tortillas
1 cup very thinly sliced green cabbage
1/2 cup diagonally sliced green onions
1/2 cup fresh cilantro, chopped
1 lime, cut into wedges
Directions
Marinade
In a medium mixing bowl, mix marinade ingredients. Cut halibut into about 8 pieces (to easily manage). Place pieces in a food storage bag and pour marinate into the bag over fish. Gently squeeze the air out of the bag and tie the bag in a tight knot. Place bag in a bowl and marinade in the refrigerator for 1-3 hours (or overnight), turning bag over once half-way through marinating process.
Salsa
In a mixing bowl, combine all salsa ingredients. Cover and chill in refrigerator while preparing fish.
Taco Filling
Heat a skillet over medium heat and add 1-2 tablespoons of marinade. Carefully remove fish from bag of marinade and gently place on grill. Cook for several minutes on each side (about 3-5 minutes per side), or until fish is no longer translucent in the center and starts to flake, adding small amounts of marinade juice while cooking (if necessary) to prevent drying. Crumble fish into a bowl. Add sliced cabbage, onions and cilantro to bowl with flaked fish and gently toss together. Fill warmed or fried corn or flour tortillas with halibut mixture and top with salsa. Squeeze juice from lime wedges over all.
Other recipes you might like: