Polka Dot Melon Salad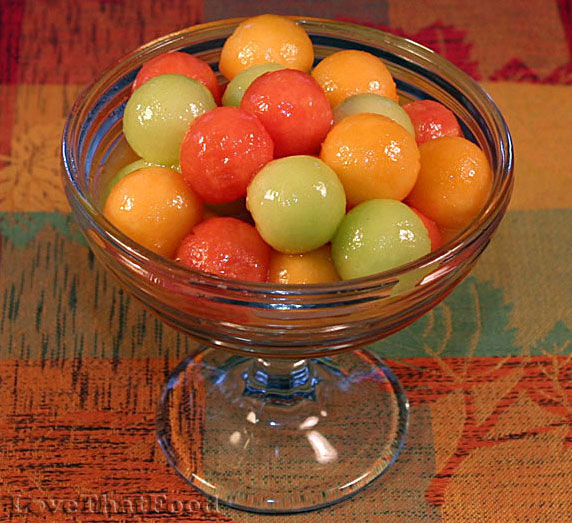 Yield:
Salad: 6-8 servings / Dressing: 1 1/2 cups
Tips:
If desired, garnish with fresh berries, such as pitted cherries, raspberries, black berries and/or boysenberries, etc.
Suggestion:
Serve in a bowl, over lettuce leaves or with yogurt as a salad. May also be served with sherbet or ice cream as a dessert.
Salads don't get much more colorful than this! Cantaloupe, honeydew melon and water melon come together to create this beautiful fruit salad that will bring life to any table. These assorted melon balls are marinated in a Honey Lime dressing that gives this pretty dish a tart and sweet
coating, making this melon ball salad stand apart from the traditional plain melon ball salad. The citrusy flavors of lime and orange juice are blended together with the honey, a little oil, paprika and salt, creating the perfectly balanced complimentary flavor for these melons.
Polka Dot Melon Salad is versatile, in that it can be served as a salad or dessert, and can be presented in a variety of ways. As a salad, it can be served alone in a bowl as shown in the above photo, or topped with plain or flavored yogurt. It can also be served as a salad over lettuce greens. As a dessert, you can serve these citrus marinated melon balls in a bowl, surrounding a scoop of sherbet or ice cream. However you serve this pretty dish, Polka Dot Melon Salad is very quick and easy to prepare, and will produce a beautiful and impressive side dish or dessert. For even more color and flair, you can also garnish this dish with pitted cherries or other fresh berries, such as raspberries, blackberries and boysenberries.
Ingredients
Melon Salad

1 cantaloupe
1 honeydew melon
4 cups seedless watermelon balls
Honey Lime Dressing (recipe follows)



Honey Lime Dressing

3/4 cup oil
1/3 cup freshly squeezed lime juice
1/4 cup orange juice
1/4 cup honey
dash salt
1/8 teaspoon paprika
Directions
Melon Salad
Cut cantaloupe, honeydew melon and watermelon in halves. Remove seeds from cantaloupe and honeydew. Using a melon ball scooper, scoop out ball shapes from each melon, using entire cantaloupe and honeydew melons, and using 4 measured cups of watermelon balls.
Place balls into a large mixing bowl. Pour Honey Lime Dressing over melon balls and gently stir to combine. Cover and refrigerate for about 1 hour. Serve using any of the following options:
Serving Options
Serve alone in a bowl (as shown in photo)
Drain and serve over lettuce greens
Serve in bowl, surrounding a scoop of lime, raspberry, orange or rainbow sherbet
Serve in a bowl, surrounding a scoop of ice cream or frozen yogurt
Serve in a bowl topped with plain or flavored yogurt
Honey Lime Dressing
Combine oil, lime and orange juices, honey, salt and paprika in a jar. Cover jar and shake vigorously until well blended.
Other recipes you might like: