Mustard Potato Salad with Egg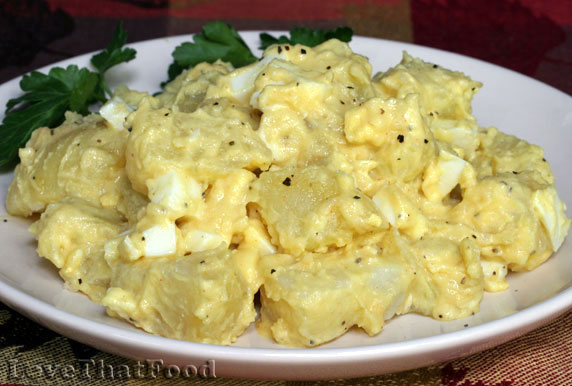 Mustard Potato Salad with Egg gets its vibrant yellow color from the yolks of chopped hard-cooked eggs and a generous helping of yellow mustard. Along with the mustard, this potato salad's lively tangy flavor comes from the homemade Italian dressing
mixture made with olive oil, white vinegar, crushed garlic and a blend of a number of other herbs and spices. The cooked potatoes are cubed, then marinated with the Italian dressing in the fridge, allowing the potatoes to soak up the lively and distinct flavors of the dressing. The creamy combination of mayonnaise and mustard are added with the eggs just before serving (you can use any variety of mayonnaise, such as light, low-fat or regular), and the golden color is born! If you'd like to dress this potato salad up a little, simply add 1/4 cup of chopped onion to the potatoes along with the Italian dressing before placing them in the refrigerator to marinate, and/or add 1/2 cup of chopped celery along with the eggs. Mustard Potato Salad with Egg is a great salad for lunch or dinner, and is perfect for picnics, barbecues and parties.
Ingredients
Potato Salad

2 lbs. potatoes (about 6 medium)
4-6 hard-cooked eggs
3/4 cup mayonnaise
3 tablespoons yellow mustard
3/4 teaspoon salt
1/4 teaspoon celery salt



Italian Dressing

1/4 cup oil (olive oil or other salad oil)
1 tablespoon lemon juice
1 tablespoon distilled vinegar
1/8 teaspoon salt
1 teaspoon sugar
1/8 teaspoon dry mustard
1/8 teaspoon onion salt
1/8 teaspoon paprika
1/8 teaspoon dried oregano leaves
dash ground thyme leaves
1 clove garlic, crushed

Directions
Clean potatoes and cut in half. Place in a large saucepan filled with enough water to cover potatoes. Add a small amount of salt to water (about 1/2 teaspoon for every cup of water) then add potatoes. Heat to boiling, then reduce heat. Cover and cook at a gentle boil for about 30-35 minutes or until potatoes are fairly easily pierced with the tines of a fork.

Drain potatoes in a collander and transfer to a cutting board and spread out to allow to cool. Once cooled, remove skins from potatoes, then cut potatoes into roughly 1-inch cubes. Place cubed potatoes in a large bowl. Pour Italian Dressing over potatoes and season with salt, celery salt and pepper. Toss gently to combine, then cover and chill in refrigerator for 2 or more hours.

Just before serving, combine mayonnaise with mustard, then add to potatoes and toss gently. Add chopped eggs and celery (if using) and toss again gently until combined. Serve. Delicious topped with cracked pepper.
Other recipes you might like: