Mustard Dill Red Potato Salad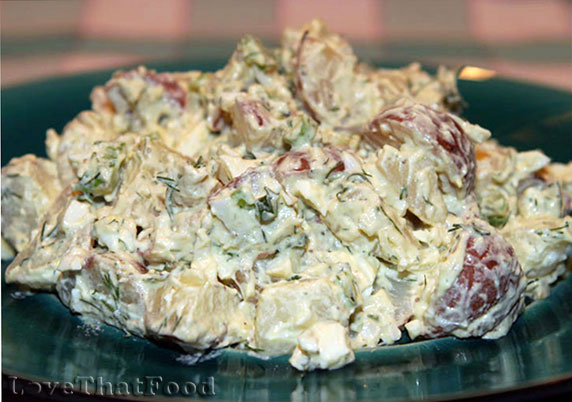 Tips:
Gold Yukon potatoes can be used with this recipe, if desired.
Suggestion:
Serve as a side dish with lunch or dinner, picnics, barbecues, parties and anytime.
Mustard Dill Red Potato Salad is colorful and creamy and has wonderful fresh and tangy flavor. This red potato salad is made using red potatoes, sliced celery,
sliced green onions and fresh chopped dill, along with some hard-cooked eggs that give this salad additional flavor, texture and color. The delicious creamy dressing is made with sour cream (rather than mayonnaise), two types of mustard (Dijon and coarse grain mustard), along with some white vinegar and celery seed.
Red potatoes are the perfect potatoes for this potato salad recipe, due to their rich red color, thin and tender skins, moisture content and tender potato pulp. Gold Yukon potatoes also have thin, tender skins and moist pulp, thus can also be used with this salad, though if you want your salad to be colorful (as shown in the above photo), red potatoes are definitely the preferred choice.
Ingredients
Salad

2 1/2 lbs. red potatoes, small or large
2 stalks celery, thinly sliced
2 green onions, thinly sliced
1/4 cup fresh dill, chopped and tightly packed
4 eggs



Dressing

1 cup sour cream
2 tablespoons white vinegar
juice from 1/2 of a lemon
1 tablespoon Dijon mustard
1/4 cup coarse grain mustard
1/2 teaspoon celery seed
1 teaspoon salt
1/4 teaspoon pepper
Directions
Salad
Clean potatoes under water with a vegetable brush. With skins on, place whole potatoes in a large pot of cold water (filled to 1 inch above tops of potatoes). Place eggs in pot with potatoes, pushing them down to fully immerse in water. Bring to a boil, then reduce heat to a gentle rolling boil. Cook for about 15 minutes or until potatoes can be easily pierced with the tip of a sharp knife.
Remove eggs from pot and allow to cool. Pour potatoes into a colander to drain. Allow to cool, then transfer to a work surface. Cut potatoes into bite size pieces and transfer cut potatoes to a large mixing bowl.
Chop up cooked eggs (or roughly mash with a potato masher) and add to bowl of potatoes. Add to potatoes the celery, green onions and dill. Pour dressing (directions follow) over potato mixture and gently toss to thoroughly combine. Place in refrigerator for an hour or more to cool.
Dressing
In a small mixing bowl, combine sour cream, vinegar, lemon juice, Dijon mustard, coarse grain mustard, celery seed, salt and pepper. Whisk ingredients until smooth and creamy.
Other recipes you might like: