Lemon Pepper Tilapia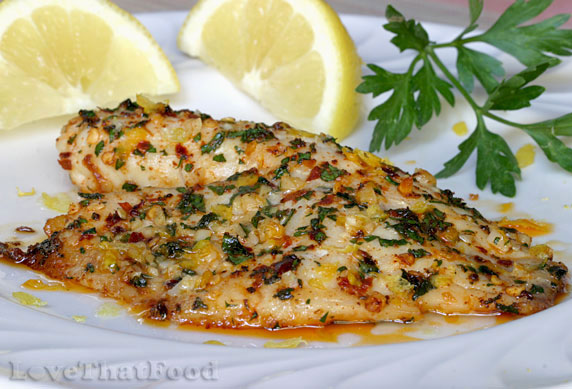 For those who haven't yet discovered how easy it is to bake fish, this
healthy Lemon Pepper Tilapia recipe is the perfect place to start! This colorful baked fish recipe features tilapia fillets that are first brushed with a garlic, melted butter and olive oil mixture. The fillets are then topped with a combination of chopped fresh Italian parsley, paprika and crushed red pepper and are briefly baked. The fillets are removed from the oven and topped a second time with these ingredients, then returned to the oven to bake a few minutes longer. (Make sure to stay close to the oven, because this process takes less than 15 minutes!) Just before serving, the fillets are drizzled with freshly squeezed lemon juice and topped with lemon zest, giving the tilapia fillets abundant color and the perfect fresh citrus flair!
Ingredients
4 tilapia fillets
salt and pepper (to taste)
1 tablespoon finely chopped fresh parsley
1/2 teaspoon ground paprika
1/2 teaspoon crushed red pepper
4 tablespoons butter
2 garlic cloves, finely chopped
2 tablespoons olive oil
1 lemon, peel grated, quartered
Directions
Preheat oven to 375° F.

Lightly butter the bottom of a shallow baking dish and set aside. In a small bowl, whisk together parsley, paprika and red pepper and set aside. In a small saucepan, melt butter over medium heat.. Add garlic and oil, then immediately remove from heat.

Place fillets in the buttered baking dish and lightly season with salt and pepper. Baste fillets with half of the butter, garlic and olive oil mixture, then sprinkle with half of the parsley, paprika and pepper mixture.

Bake for 8 minutes. Remove from oven and baste fillets again (do not turn fillets over) with the remaining butter, garlic and olive oil mixture. Sprinkle with the remaining spice mixture and return to oven. Bake for 6-8 minutes, or until the fish easily flake with a fork.

Transfer fillets to a serving platter and squeeze lemon juice over the tops, then garnish with grated lemon peel.
Other recipes you might like: