Ginger Chicken Stir-Fry with Apples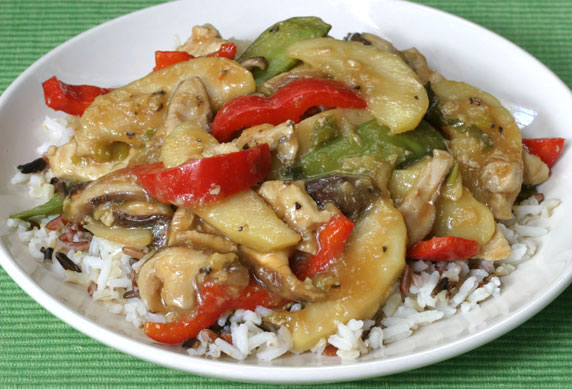 Tips:
Regular or Shitake mushrooms may be used.
Suggestion:
Serve over a rice blend (as shown in photo), brown rice or other preferred rice.
When it comes to quick and easy healthy chicken recipes, stir-fry recipes just can't be beat! Stir fry dishes usually take 20 minutes or less to cook, depending on the ingredients used, and preparation is usually a simple matter of some slicing, chopping and perhaps mixing a few ingredients to create a tasty stir-fry sauce.
This healthy chicken and vegetable stir-fry recipe comes with a unique and tasty twist! In addition to the fresh and tender-crisp vegetables and thin bite-size strips of chicken breast, slices of apples are added during the last 5 minutes of stir-frying, giving this stir-fry dish a natural and mildly sweet flavor in addition to more color from the apples, if you choose to leave the skins on. (Note: You can use any type of apples you enjoy, including Granny Smith, Fuji (shown in photo), Gala, Golden
Delicious, etc. You might want to keep in mind the sweetness, texture and skin color of the apples you ulitmately choose.)
The vegetables in this healthy chicken and vegetable (and apples) dish add vibrant color and give this stir-fry dish that fresh tender-crisp crunch for which most stir-fry dishes are famous! The vegetables used with this recipe include sugar snap peas or snow peas (or a combination of both), slices of red or orange bell pepper (or a combination of both), sliced shitake or white mushrooms and sliced green onions. The sliced chicken is briefly cooked together with some minced ginger and garlic, then later added to the vegetables after they've been cooked to tender-crisp. As with most stir-fry dishes, the sauce is easily whipped up in just seconds. The stir-fry sauce has fresh terrific flavor, featuring some chicken broth, soy sauce and apple cider vinegar; and to keep the apple theme incorporated into this stir-fry dish, some unsweetened apple sauce.
Though the apples do add a nice touch to this stir-fry recipe, some of you might prefer to only include the vegetables and omit the apples. If this is your preference, you can simply substitute any of the other vegetables for the sliced apples, and you'll still have a fabulous stir-fry dish! Lastly, this chicken, apple and vegetable stir-fry dish is great on its own or served over your favorite cooked rice.
Ingredients
2 teaspoons sesame oil
2 cloves garlic, minced
2 tablespoons minced ginger root
1 lb. boneless, skinless chicken breast, sliced into thin bite-size strips
4 green onions, sliced
1/3 lb. sugar snap peas and/or snow peas
1 small red or orange bell pepper, cut into strips
10 white or shitake mushrooms, sliced
1/4 teaspoon ground black pepper
1/3 cup unsweetened applesauce
2 tablespoons soy sauce
2 tablespoons apple cider vinegar
1 tablespoon cornstarch 1/3 cup chicken broth (or water)
2 medium apples, cored, (peeled or skins left on) and sliced
rice (rice blend, brown or other rice) for serving
Directions
In a small mixing bowl, whisk together apple sauce, soy sauce, vinegar, cornstarch and chicken broth (or water). Set aside near cooking area.

Heat sesame oil in a nonstick skillet (or nonstick wok) over medium heat. Add garlic and ginger and stir-fry for about 30 seconds. Add chicken and cook for about 3-5 minutes or until no pink color remains (add a few drops of additional sesame oil if skillet seems too dry). Remove chicken from skillet and place in a bowl near cooking area.

Add vegetables to skillet and cook over medium heat, stirring frequently until tender-crisp (about 3 minutes). (Note: If skillet seems too dry, add a few occasional drops of water as needed.) Sprinkle with pepper and briefly stir to combine.

Return chicken to the skillet, then stir in apple slices. Allow to heat through, stirring frequently (about 1 minute). Briefly whisk applesauce mixture again, then pour into skillet and stir to combine. Cook until the sauce has thickened slightly and as soon as apples are slightly tender (about 1-2 minutes).

Serve over a rice blend, brown rice or other preferred rice.
Other recipes you might like: