Creamy Garlic Dressing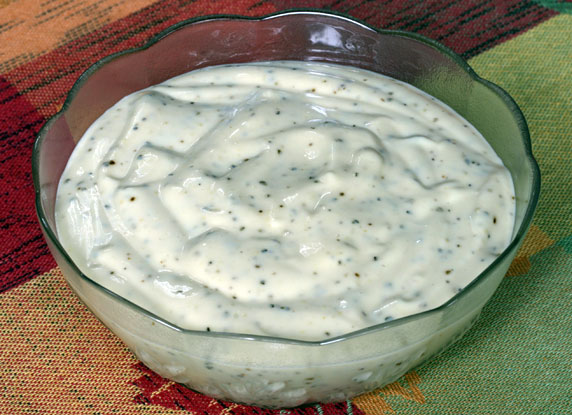 Yield:
A little over 1 cup of salad dressing.
Tips:
If desired, you can thin dressing with a little buttermilk, stirring in small amounts at a time until you reach desired consistency.
Suggestion:
Serve with fresh green leafy salads or use as a dip for fresh raw vegetables.
Once you start exploring the many varieties of made-from-scratch salad dressing recipes out there (such as this wonderful Creamy Garlic Dressing recipe), those bottles of prepared salad dressings will likely begin to become a thing of the past for you.
There's something so fresh and vibrant about homemade salad dressing recipes, that the premade bottled versions sold in stores seem to pale in comparison. Plus, more often than not, you'll likely find your kitchen already carries most of the ingredients called for in salad dressing recipes, such as vinegar (white, apple cider and/or wine vinegar), mustard, mayonnaise and a variety of everyday dried herbs and spices to name a few. This Creamy Garlic dressing recipe uses one egg yolk, and will last up to 2 weeks in your refrigerator, depending on when you purchased your eggs. The freshly squeezed lemon juice used in this recipe will help to preserve the egg yolk and keep it fresh. This Creamy Garlic Dressing recipe can be whipped up in just minutes, and will brighten up any leafy green salad or can serve as a delicious dip for fresh raw vegetables.
Ingredients
1 cup mayonnaise
1 teaspoon dry mustard
1 teaspoon sugar
1 tablespoon lemon juice
1 tablespoon red wine vinegar
1 teaspoon coarsely ground black pepper
1 teaspoon garlic powder
1 egg yolk
salt
Directions
In a small mixing bowl, whisk together mayonnaise, mustard, sugar, lemon juice, vinegar, pepper, garlic powder and egg yolk, then season to taste with salt. Whisk until well-blended and creamy. Chill dressing in refrigerator until ready to use. Should last up to about 2 weeks, depending on the expiration date of your eggs.
Other recipes you might like: