Buffalo Mac and Cheese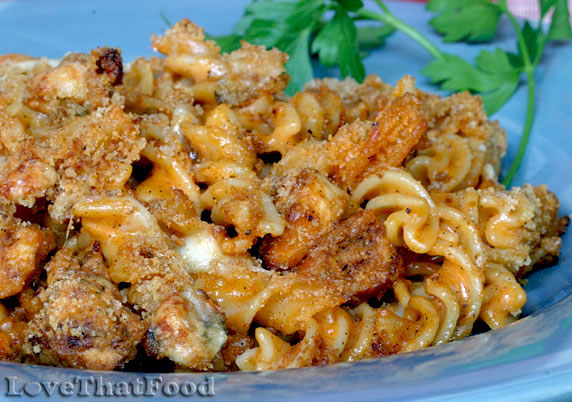 Tips:
Leftovers may be frozen for future use.
Suggestion:
Delicious served with a leafy green salad or vegetable side.
If you enjoy sitting down to a plate of hot and tangy Buffalo wings with a side of blue cheese dip, and likewise enjoy an occasional plate of hot and steamy macaroni and cheese, then this Buffalo Mac and Cheese recipe will give you the opportunity to enjoy the flavors of both in one dish!
Buffalo Mac and Cheese features nice-sized chunks of seasoned chicken
breast, fusilli (or rotini) pasta, sharp cheddar cheese, crumbled blue cheese and sautéed diced celery in a creamy sauce flavored with Buffalo wing sauce.
There are a few varieties of Buffalo wing sauce out there, but the most popular is
Frank's Red Hot Buffalo Wing Sauce
." Most grocery stores carry Frank's Red Hot Buffalo Wing Sauce, and will usually stock it in the Mexican sauce aisle with other spicy sauces. If you can't find it there, you may want to ask someone to guide you to the correct isle.
This macaroni and cheese recipe is a nice twist from the traditional macaroni and cheese, and is perfect served as the main course with perhaps a salad or vegetable side. This recipe makes quite a big batch that can easily feed 8 people, so if you are preparing this for a smaller group, you can either divide the ingredients by half and bake it in a 8x8 or 9x9-inch casserole dish, or simply freeze the leftovers for an easy microwaveable meal later!
Ingredients
Basic Ingredients

1 lb. fusilli or rotini
1 lb. uncooked boneless, skinless chicken breast, cut into 1-inch cubes
1/2 teaspoon crushed celery seed
1 teaspoon paprika
1/4 teaspoon salt
2 tablespoons olive oil, divided
2 stalks of celery, diced
3 cloves garlic, minced



Sauce

3 tablespoons butter
3 tablespoons all-purpose flour
2 teaspoons dry mustard
1 teaspoon paprika
2 1/2 cups 2% milk
1/2 cup Buffalo Wing sauce (preferably Frank's Red Hot)
8 oz. sharp cheddar cheese, shredded
1/2 cup crumbled blue cheese



Crumb Topping

1 tablespoon butter, melted
1/2 cup plain bread crumbs
1/2 teaspoon crushed celery seed
Directions
Preheat oven to 375° F.
Basic Ingredients
Bring a large pot of lightly salted water to a boil. Add pasta and cook per package directions. Drain in a collander and set aside.
Place cubed chicken in a medium mixing bowl and season with celery seed, paprika and salt. Heat 1 tablespoon of the oil in a large skillet over medium-high heat, then add seasoned chicken and brown for 3-5 minutes or until cooked through, stirring as needed to evenly cook. Transfer chicken to a medium bowl. Cover with aluminum foil to keep warm and set aside.
Using same skillet, add remaining 1 tablespoon of oil and reduce heat to low-medium. Add diced celery. Sauté for 4-5 minutes, or until celery appears translucent and tender. Add garlic and cook for 1-2 minutes longer (but not long enough for garlic to turn brown). Add celery and garlic mixture to cooked chicken in bowl and re-cover with foil. Set aside.
Sauce
In a large saucepan, melt butter over medium heat. Sprinkle in flour and dry mustard and whisk constantly for 2 minutes. Add milk and Buffalo wing sauce, whisking constantly to blend, until sauce comes to boil. Reduce heat to low and simmer 3 minutes, whisking frequently. Remove from heat, then add cheddar cheese, blue cheese and paprika and stir until thoroughly blended.
Add pasta, chicken and celery mixture to saucepan and stir to thoroughly combine with sauce. Pour ingredients into a 9 x 13-inch casserole dish and evenly spread around. Evenly sprinkle blue cheese over top.
Crumb Topping
In a small mixing bowl, combine melted butter, bread crumbs and celery seed and mix with a fork until fully blended. Sprinkle mixture evenly over casserole. Bake for 15-20 minutes or until golden brown on top and bubbling through.
Other recipes you might like: