White Bean Soup with Spicy Sausage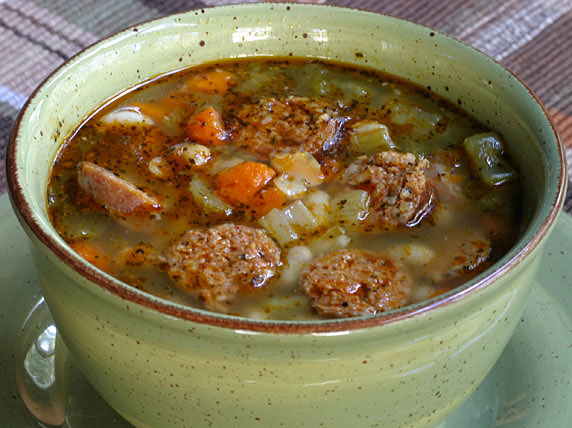 Cook Time:
Soup: 1 1/2 hours. If using uncooked deli-style sausage, add about 10 minutes to cooking time.
Tips:
Stir in chopped parsley just before serving if desired.
Suggestion:
Delicious with a side of
bread
.
This White Bean Soup with Spicy Sausage recipe will warm you in every way possible!
This deliciously vibrant soup features Great Northern beans, sliced sausage, carrots, celery, green bell pepper and an assortment of herbs and spices that bring this soup to life. The beauty of this recipe is that you can use any type of sausage you like, and that includes spicy or not-so-spicy sausage, smoked cooked sausage or kielbasa, beef, pork or turkey sausage, or even raw deli-type sausage that you cook prior to adding to the soup (the above photo shows this soup made with a combination of sweet and spicy uncooked deli sausage that were cooked on the outdoor grill). As with most soup recipes, any leftovers are just as wonderful, because the soup thickens and gains more flavor overnight in the fridge.
Ingredients
1 lb. dried Great Northern beans
2 tablespoons olive oil
2 carrots, peeled and chopped
2 celery stalks, chopped
1 green bell pepper, seeded, cored and chopped
1/2 teaspoon ground thyme
1/2 teaspoon basil
1/4 teaspoon cayenne pepper
2 bay leaves
3 garlic cloves, minced
6 cups water
1 lb. hot smoked sausage or kielbasa or deli-style sausage, cooked
1 1/2 teaspoons salt
3 chicken bouillon cubes or teaspoons of chicken bouillon granules
1/4 cup parsley, washed, dried and chopped (optional)
Directions
Soak beans overnight in a large soup pot filled with enough water to cover beans (water level should be about 2-3 inches above beans). Just before cooking soup, drain, rinse and sort beans.

Heat olive oil in a large soup pot or saucepan. Once oil is hot, add carrots, celery, bell pepper, thyme, basil, cayenne pepper and bay leaves and saute for 10 minutes, stirring occasionally. Add garlic and saute for 1 minute more.

Add water, chicken bouillon, sausage and salt to soup pot and heat to boiling, stirring briefly to combine ingredients. Once boiling, reduce heat to a low-boiling simmer and cover. Cook for about 1 1/2 hours or until beans are tender.

When ready to serve, remove bay leaves and stir in chopped parsley if desired. Serve.
Other recipes you might like: