Texas Tortilla Soup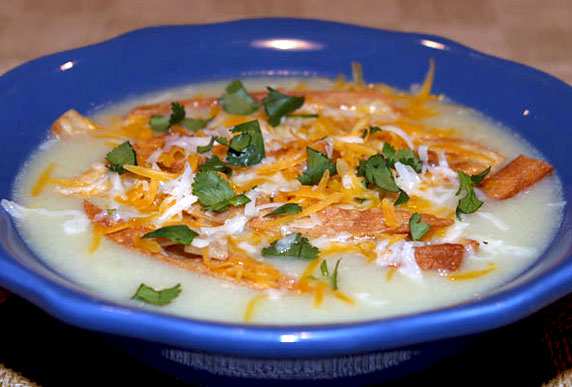 Cook Time:
1 hour 30 minutes
This Texas Tortilla Soup recipe is different than the tortilla soup recipes you might be familiar with. While the more common tortilla soup traditionally features a chicken
broth with chunks of chicken and perhaps tomatoes, corn kernels, onions, this tortilla soup actually uses pureed corn tortillas as part of the broth, giving it a more creamy texture and lighter color. Bites of shredded chicken are simmered for an hour with vegetables in a chicken-flavored broth. Some of that broth is then combined in a blender with corn tortillas, cloves of garlic and jalapeno peppers and is pureed, then returned back to the soup broth, giving it a unique corn flavor as well as acting as a thickening agent. The photo above shows Texas Tortilla Soup garnished with crunchy tortilla strips, shredded cheddar and Monterey jack cheese and chopped fresh cilantro, which are all a perfect compliment to this soup. For even more flavor, texture and color, dollops of sour cream and slices of avocado can be placed on top.
Ingredients
Soup

2 skinless, boneless chicken breasts
10 cups water
2 onions, cut into halves
6 ribs celery, each cut into halves
8 sprigs cilantro
4 chicken bouillon cubes
12 corn tortillas, torn into pieces
2 jalapenos, seeded and chopped
2 cloves garlic
1 1/2 teaspoons salt



Garnishes

Crispy Fried Tortilla Strips (recipe follows)
shredded cheddar and Monterey jack cheese
chopped fresh cilantro
Directions
Soup
Place chicken breasts, onion halves, celery halves, cilantro and bouillon cubes in a large soup pot. Add water and bring to a boil. Cover and reduce heat. Simmer for 1 hour. (At this point, prepare Crispy Fried Tortilla Strips - recipe shown below).
After the soup has cooked for 1 hour, pour the broth through a strainer into another pot or large heat-resistant bowl to separate broth from chicken and vegetables. Discard onions and celery. Pour stock back into original soup pot. Shred chicken into bite-size pieces and set aside.
Place 2 cups of the soup stock into a blender. Add to blender torn corn tortillas, jalapenos and garlic and puree until completely smooth. Pour pureed tortilla mixture back into soup pot with clear soup stock. Stir to blend thoroughly. Add shredded chicken pieces and gently stir again. Cover and simmer over low heat for another 30 minutes or until slightly thickened, stirring occasionally.
Ladle soup into bowls and garnish with crispy fried tortilla strips, shredded cheddar cheese, Monterey jack cheese and fresh chopped cilantro, as well as dollops of sour cream and avocado slices, if desired..
Crispy Fried Tortilla Strips
While the soup is cooking, slice 4-6 tortillas into 1/2-inch strips, then cut those strips into thirds. Place a few paper towels on a plate and have ready nearby. Heat about 1 inch of oil in a small saucepan on high. Once the oil is hot, add the tortilla strips and fry, gently moving around with a large slotted spoon so they don't stick together and so the oil touches all sides of strips.
As soon as strips turn a light golden brown, remove from oil with slotted spoon and place on plate with paper towels. Sprinkle lightly with salt and serve as garnish for soup.
Other recipes you might like: