Meatball Soup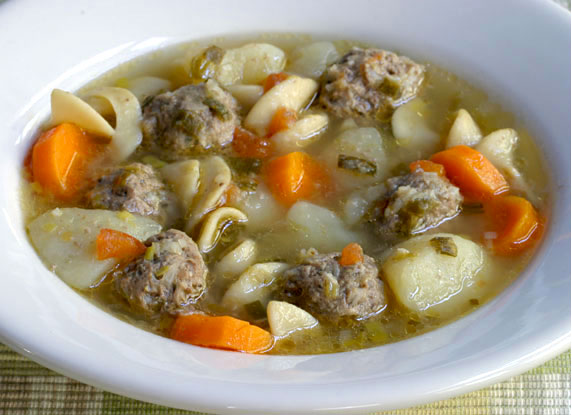 Tips:
If preferred, to remove unwanted fat from soup, refrigerate until fat solidifies on top, then lift fat with a fork and discard. Reheat soup.
This recipe for Meatball Soup uses all those basic comfort ingredients we love - seasoned meatballs (made with rice) and hefty bite-size chunks of potatoes, carrots and noodles. Some diced tomatoes sneak their way into this soup as well, after being sautéed with some diced green onions and minced garlic, adding wonderful flavor to the broth. The meatballs can be made with ground beef or ground turkey, as both will produce a delicious soup.
This is an easy soup to make that takes only 30 minutes or less to cook. If you'd like to save a little time, you can prepare the meatballs a day or two in advance and refrigerate them until you're ready to cook the soup.
Some prefer the flavors the oils from meat provide in soup. However, if you prefer to remove any excess grease from your soup, it's a very easy process. Simply refrigerate the soup after cooking until the grease solidifies into a solid sheet on top, then lift the solidified grease with a fork and discard. At that point, reheat the soup just until hot and serve. By the way, this soup tastes fabulous reheated, because the flavors marinate together while in the fridge. Final tip: If you would like to add more broth to your soup, heat 1 cup of water with 1 chicken bouillon cube in a sauce pan, stirring until dissolved, then add to the soup (or you can add as much canned chicken broth as you prefer).
Ingredients
Meatballs

1 lb. ground beef
1 teaspoon dried oregano
1 egg, slightly beaten
1/3 cup uncooked rice
1/4 teaspoon salt
1/4 teaspoon ground black pepper



Soup

2 large potatoes, peeled and chopped into 1-inch pieces
1 1/2 cups uncooked egg noodles
6 cups chicken broth (or 1 49.5-oz. can)
2 tablespoons olive oil
2/3 cup chopped green onions
2 tomatoes, skinned and diced
2 large carrots, peeled and cut into 1/4-inch slices
2 cloves garlic, minced
1/2 teaspoon salt
1/2 teaspoon ground black pepper
Directions
Meatballs
In a large mixing bowl, combine ground beef, oregano, egg, rice, salt and pepper. Mix until thoroughly combined (hands work best for mixing). Using a cookie scoop or a spoon, making 1-inch meatballs and set aside on a plate.
Soup
In a large soup pot, heat oil until hot, then add onions and tomato. Reduce heat to low-medium and cook until tender but not brown (about 3-4 minutes). Add garlic and cook for 1 more minute, stirring frequently.
Add to soup pot chicken broth, potatoes, carrots, noodles and meatballs and bring to a boil. Reduce heat to low and simmer for about 30 minutes or until meatballs are cooked through. Serve.
Other recipes you might like: