Hot German Potato Salad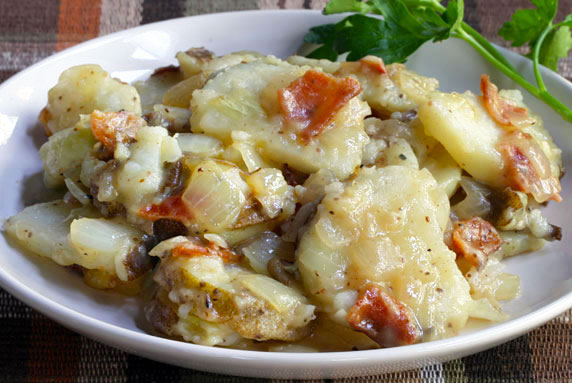 Tips:
After chilling leftovers, may be reheated in the microwave until steamy and hot.
Suggestion:
Great for dinner, lunch, parties and picnics.
Hot German Potato Salad is quite different from traditional potato salad recipes, in that it is served hot right from the skillet! This tangy and delicious potato salad features
large slices of potatoes (photo shows this salad made with Russet potatoes, chunks of crisp bacon and sauteed onions. (Photo shows this salad made with Russet potatoes, though other potatoes may be used.) One of the secrets to the tangy and distincitive flavors of this potato salad is in the way it is cooked. Once the bacon has been fried to a crisp in the skillet, the bacon fat is reserved, and the onions are sauteed in the fat. A seasoned flour roux is then made using the bacon fat, and the potatoes are added to the roux and onions along with some water and a fairly generous amount of apple cider vinegar (which gives it that wonderful tanginess). Once all these ingredients are pulled together, the result is a hot and steamy, moist and very flavorful potato salad that will surprise and delight!
Ingredients
1 1/2 lbs. cleaned potatoes (about 4 medium), cut into halves (skins on)
3 slices bacon
1/2 cup chopped onion
1 tablespoon flour
1 tablespoon sugar
1 teaspoon salt
1/4 teaspoon celery seed
dash pepper
1/2 cup water
1/4 cup apple cider vinegar
Directions
Heat enough water in a large saucepan to cover potato halves. Salt water (about 1/2 teaspoon salt to each 1 cup of water). Add potatoes and heat to boiling, then immediately reduce heat to a gentle boil. Cover and cook until potatoes are tender and are able to fairly easily be pierced with the tines of a fork (about 20 to 30 minutes). Do not overcook potatoes, as this will make them mushy! Drain potatoes and allow to cool. Once cooled, slice into 1/4 to 3/8-inch-thick slices, cutting larger pieces in half as necessary to make reasonable bite-size chunks.

Fry bacon in a skillet until crisp, then remove bacon (reserving bacon fat in skillet) and place on paper towels to drain. Add onions to bacon fat in skillet and cook over low-medium heat until tender (about 5 minutes). Stir in flour, sugar, salt, celery seed and pepper. Cook, stirring constantly until mixture becomes bubbly. Remove skillet from heat, then stir in water and vinegar. Return to heat and bring to a boil, stirring constantly. Continue cooking and stirring for 1 minute, then remove from heat again.

Crumble bacon into hot mixture in skillet, then add sliced potatoes. Cook until hot and bubbly while gently stirring to coat potato slices. Serve immediately while hot. To reheat leftovers, simply heat in the microwave until hot and steamy (about 1 - 1 1/2 minutes)
Other recipes you might like: