Enchiladas Suizas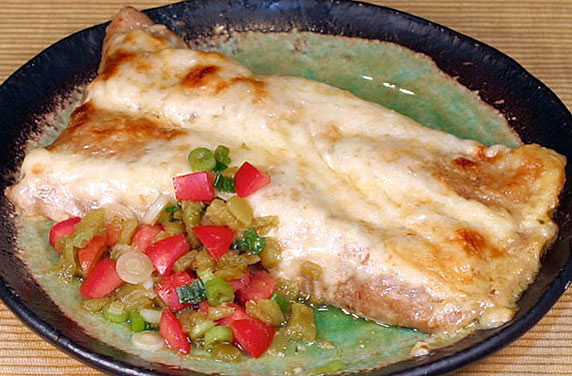 Tips:
Because flour tortillas are larger than corn tortillas, using flour tortillas will make less enchiladas. Picture shows enchiladas made with multi-grain flour tortillas.
Suggestion:
Delicious served with regular or Spanish rice and a
salad
.
Enchiladas Suizas (translated, means Swiss Enchiladas) are different from traditional chicken enchilada recipes, in that instead of being served with a red chili pepper sauce, they are served with a creamy cheese sauce made with heavy cream and Monterey jack cheese along with some savory seasonings. The filling for these elegant chicken enchiladas also differs from traditional
enchiladas, consisting of shredded chicken breast, sautéed onion and garlic, diced green chiles, salsa verde and fresh parsley. Each tortilla is first dipped into the creamy cheese sauce, and is then wrapped around generous helpings of the delicious chicken mixture. To top it off, more cheese sauce is liberally poured over the top of the enchiladas, and more Monterey jack cheese is sprinkled over the sauce. The enchiladas are then baked to a gorgeous bubbly golden brown, making an impressive presentation. This Enchiladas Suizas recipe also includes an easy-to-make tomato, green onion and green chile salsa that adds wonderful complimentary flavor and texture as well as bright color. This salsa garnish is optional, as these enchiladas are superb with or without any garnishing - though considering how easy the salsa is to make and the color and flavor it adds, it is well worth serving with these enchiladas. Leftovers reheat very nicely in the microwave, and will provide a quick and delicious lunch or dinner.
Ingredients
Enchiladas

1/2 cup chopped onion
1 clove garlic, minced
1/4 c. oil
2 cups cooked, shredded or diced chicken
1 7-oz. can green chili salsa
1/4 cup or 1 4 oz. can chopped green chiles
2 tablespoons chopped parsley
2 chicken bouillon cubes, crushed
dash paprika
1 cup milk
1/2 cup whipping cream
1 1/2 cups shredded jack cheese
6 flour or corn tortillas
salsa (optional - recipe follows)



Salsa

2/3 cup diced seeded tomato
1/2 cup sliced green onions
1/3 cup diced green chiles
pinch salt (to taste)
Directions
Enchiladas
Preheat oven to 350° F.
Sauté onion and garlic in one tablespoon oil until onion is tender. In bowl, combine sautéed onion and garlic, chicken, green chili salsa, green chiles and parsley and set aside.
In medium skillet, combine flour, bouillon cubes and paprika, smashing bouillon cubes with the back of a spoon. Stir in milk and cook until mixture boils and thickens slightly, then remove from heat and stir in heavy cream and 1/2 cup of cheese. Set aside.
Heat remaining oil in a medium skillet to a low-medium temperature. Dip both sides of tortillas one at a time in oil to soften, allowing oil excess oil to drip off. Dip both sides of tortillas in cream and cheese sauce and place open faced in 8x12-inch baking dish. Place a generous 1/3 cup of chicken mixture on each open tortilla. Roll up, placing seam side down. Continue until all chicken mixture is used up.
Pour remaining cream and cheese sauce over the tortillas, covering as much surface as possible. Sprinkle remaining jack cheese on top of sauce.
Cover with aluminum foil and bake for 15 minutes. Remove aluminum foil and bake for an additional 15 minutes or until bubbly and showing some golden brown areas.
Salsa
Combine tomato, green onions and chiles. Season to taste with salt. Makes about 1 1/4 cups.
Other recipes you might like: