Crispy Lemon Chicken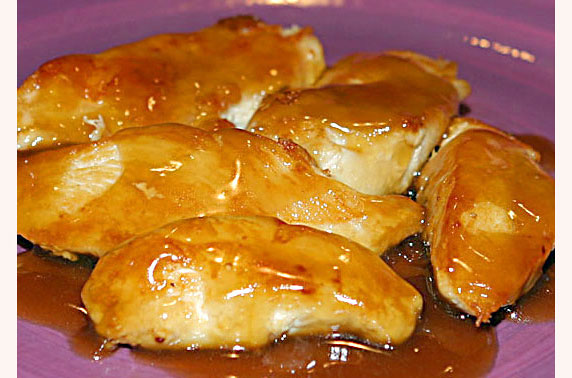 Tips:
Light or dark chicken meat can be used. Chicken pieces can be cut into any size you prefer.
Suggestion:
Delicious served with rice and a
vegetable
side.
Lemon Chicken is a tangy and refreshing chicken recipe, featuring cuts of chicken breasts (you
may also use dark chicken meat if preferred) that have been sautéed until lightly browned in a skillet, then drizzled with a mildly sweet and tangy lemon sauce made on your stovetop. If you like orange chicken and are a fan of foods flavored with lemon, you'll enjoy this lemon chicken dish.
The tangy sauce used in this Lemon Chicken recipe has a consistency similar to sweet and sour sauce, yet has the fresh and tangy zing of lemon. Because the sauce is made with freshly squeezed lemon juice, it has a wonderfully tart and refreshing flavor.
This chicken dish is easy to make doesn't take long to prepare, so it's a great dish to put together on a moment's notice. Lemon Chicken is delicious served with a side of rice and fresh vegetables.
Ingredients
Sauce

1/2 cup boiling water
juice of 3 lemons, reserving 1 squeezed half
1/2 cup sugar
1 tablespoon soy sauce
2 tablespoons cornstarch
2 teaspoons oil



Chicken

2-3 skinless and boneless chicken breasts
water
oil
Directions
Sauce
In a small saucepan, bring water to a boil. Add lemon juice with the squeezed lemon half and sugar. Bring to boil again, then reduce heat and simmer 2 to 3 minutes until sugar is dissolved. Stir in oil and soy sauce. Remove from heat and set aside until chicken is ready to serve. [At this point, you will begin cooking chicken.]
After cooked chicken has been placed on serving plate, reheat lemon sauce, bringing to a low boil on medium-high heat. In a small bowl, mix cornstarch with a small amount of cold water (just enough to make a smooth paste), then add to lemon sauce while whisking to blend. Cook, whisking constantly, until slightly thickened. Spoon over cooked chicken.
Chicken
In a medium saucepan, heat water to boiling. Add chicken breasts and reduce temperature to low. Cook chicken breasts for 20 minutes and remove from heat. Place chicken pieces on paper towels to drain. Allow to cool until easy to handle. Cut or shred chicken into pieces (either bite-size pieces or up to 1x3" in size). In a large skillet, add enough oil to cover entire bottom of skillet and heat until hot. Add chicken and fry, turning chicken until crispy on all sides. After chicken has crisped and browned nicely, remove from heat and place on paper towels to drain for 1-2 minutes. Transfer chicken pieces to serving plate. Drizzle liberally with lemon sauce.
Other recipes you might like: