Crispy Cheese-Baked Chicken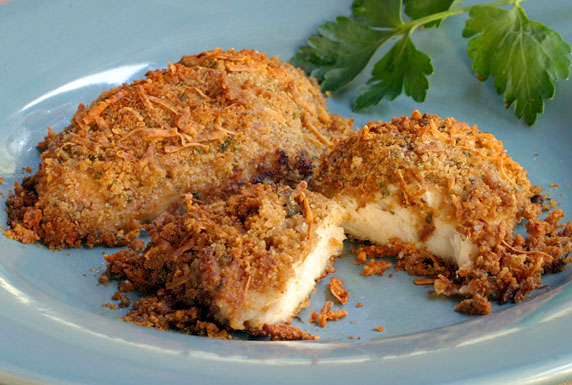 Cook Time:
1 hour, 15 minutes
Tips:
Any type of cheese can be used for flavor variation, such as swiss, pepper jack, Parmesan, etc.
Crispy Cheese-Baked Chicken is one of those easy recipes that you can pull together in a matter of minutes. This chicken recipe uses a simple combination
of bread crumbs, seasonings and freshly chopped parsley, along with some shredded cheese (the recipe calls for cheddar, but you can use any other type of cheese you prefer, such as swiss, pepper jack, Parmesan, etc. The chicken is dipped in melted butter, then coated with the bread crumb and cheese mixture. Any remaining melted butter is drizzled over the top, and the chicken is popped into the oven. After about an hour of baking, you've got a crispy, cheesy chicken dish that all ages will enjoy. You can use pieces of chicken cut from a whole fryer, or cut two boneless, skinless chicken breasts into serving-size portions. For a fun twist, you can cut the chicken into smaller pieces to create chicken strips or nuggets. However you prepare this dish, this chicken dish will be a hit!
Ingredients
2 cups bread crumbs
1 cup shredded Cheddar cheese
2 tablespoons chopped parsley
1 teaspoon salt
1/4 teaspoon pepper
1/2 teaspoon garlic salt
2 boneless, skinless chicken breasts or 1 frying chicken cut into pieces
3/4 cup butter
Directions
Preheat oven to 350° F.

Combine crumbs, cheese, parsley and seasonings. Dip chicken into butter, then crumb mix. Arrange in single layer in shallow baking pan with meat side of pieces up. Pour remaining crumbs over top. Drizzle any remaining butter over all ov chicken. Bake for 1 hour, 15 minutes or until light golden and crisp.
Other recipes you might like: